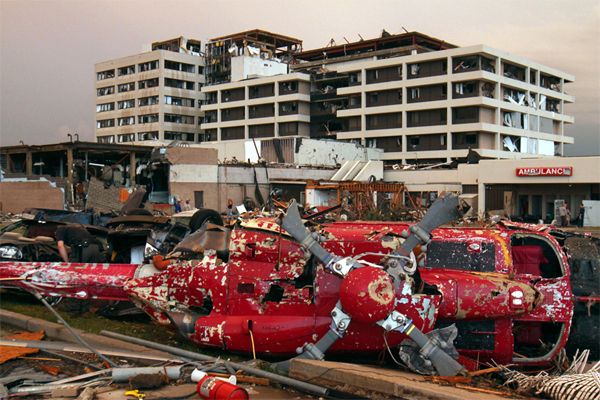 The above photo [AP Photo/Mark Schiefelbein] is taken from
The Atlantic
's collection of photos, which can be viewed
here
, documenting the aftermath of the tornadoe that devastated Joplin, Missouri: "At least 90 people died in a massive tornado that left a path of destruction nearly a mile wide through the heart of Joplin, Missouri, on Sunday. The cyclone destroyed hundreds of homes and vehicles, as well as a high school and a hospital. Rescue teams have been working hard to find and assist as many people as possible, even as another storm system passes through region today. Tens of thousands are now living without power around this small city, where an estimated 30 percent of the structures were flattened or damaged by the massive storm."
My thoughts are with Shakers who live and/or have loved ones in the affected area. It seems coarse to wish that you and your loved ones are all okay, when we know that there are people who are not okay, but there it is. I am hoping you are among the people who are physically unhurt, and you have my profound compassion and sympathy for the hurt you are all certainly feeling.
There is all kinds of information about how to help
here
, including where to make donations to dedicated relief funds. Additionally, you can find information about locating and communicating with family members at the link.
Also: There will be so many pets and other animals in need of help, shelter, medical aid, food, and protection in the wake of such a devastating storm. Please consider making a donation to
the Humane Society of Missouri
,
the ASPCA
, or other rescue organization. If you live in the area, they will also be desperate for foster homes for rescued animals, so please consider volunteering if you can.
As always, please feel welcome and encouraged to leave other ideas for teaspooning opportunities in comments.