$698 billion:
The US' military spending last year, via
Think Progress
: "U.S. spending on the military last year far exceeded any other country. We spent six times more than China — the second largest spender. Overall, the world expended $1.6 trillion on the military, with the United States accounting for the lion's share."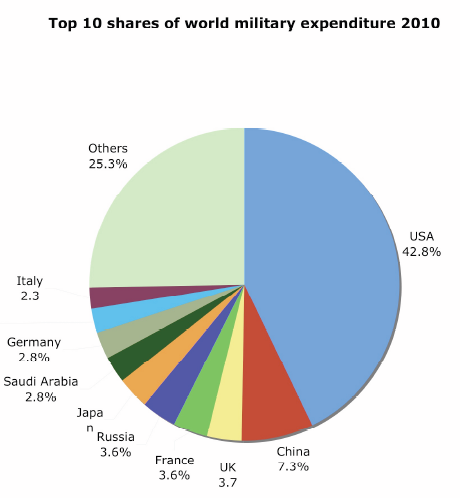 [Every policy proposal] must be weighed in the light of a broader consideration: the need to maintain balance in and among national programs, balance between the private and the public economy, balance between the cost and hoped for advantages, balance between the clearly necessary and the comfortably desirable, balance between our essential requirements as a nation and the duties imposed by the nation upon the individual, balance between actions of the moment and the national welfare of the future. Good judgment seeks balance and progress. Lack of it eventually finds imbalance and frustration. The record of many decades stands as proof that our people and their Government have, in the main, understood these truths and have responded to them well, in the face of threat and stress.

...[The] conjunction of an immense military establishment and a large arms industry is new in the American experience. The total influence—economic, political, even spiritual—is felt in every city, every Statehouse, every office of the Federal government. We recognize the imperative need for this development. Yet, we must not fail to comprehend its grave implications. Our toil, resources, and livelihood are all involved. So is the very structure of our society.

In the councils of government, we must guard against the acquisition of unwarranted influence, whether sought or unsought, by the military-industrial complex. The potential for the disastrous rise of misplaced power exists and will persist. We must never let the weight of this combination endanger our liberties or democratic processes. We should take nothing for granted. Only an alert and knowledgeable citizenry can compel the proper meshing of the huge industrial and military machinery of defense with our peaceful methods and goals, so that security and liberty may prosper together.
—That radical progressive peacenik,
Dwight D. Eisenhower
, January 17, 1961.
Eisenhower was a five-star general, Supreme Commander of the Allied forces in Europe during World War II, the first Commander of NATO, and a Republican president who campaigned on defeating "Communism, Korea, and corruption," yet continued New Deal policies once in office and warned, in his farewell address (excerpted above), against giving undue influence to the military-industrial complex.
Whoooooooooops.