What Planned Parenthood Actually Does: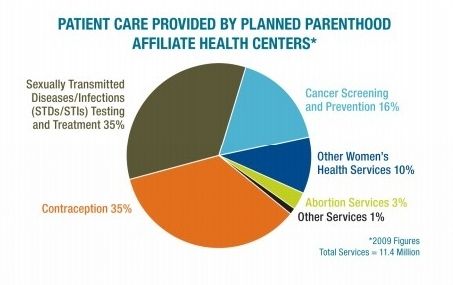 Ezra Klein
:
As you can see in the chart atop this post, abortion services account for about 3 percent of Planned Parenthood's activities. That's less than cancer screening and prevention (16 percent), STD testing for both men and women (35 percent), and contraception (also 35 percent). About 80 percent of Planned Parenthood's users are over age 20, and 75 percent have incomes below 150 percent of the poverty line. Planned Parenthood itself estimates it prevents more than 620,000 unintended pregnancies each year, and 220,000 abortions. It's also worth noting that federal law already forbids Planned Parenthood from using the funds it receives from the government for abortions.
Of course, I don't expect FACTS to matter to people who spend their lives willfully avoiding any information that might dissuade them from their sanctimonious certainty about their heaven-stamped rectitude.