There's so much going on in Japan right now, in the aftermath of the earthquake and tsunami last week. Right now, there's an awful lot of focus on the nuclear plants and avoiding meltdown, but there are still so many individual need. Please feel welcome and encouraged to leave links to aid organizations in comments. I will, as always, recommend
donations to Doctors Without Borders
, who are
in Japan
and assessing needs for vulnerable populations in particular.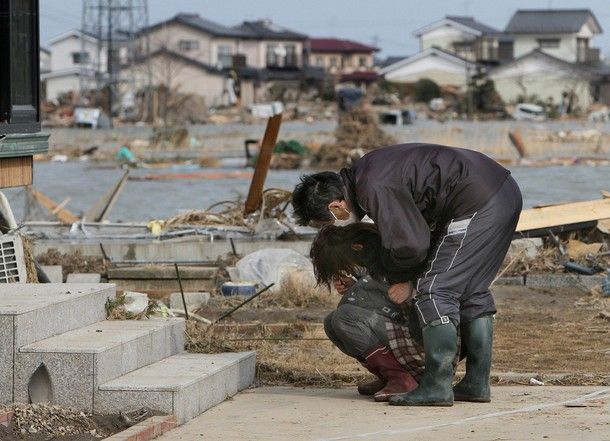 A man comforts a woman as she cries in front of her damaged home in the town of Watari in Miyagi prefecture on March 14, 2011 three days after a massive 8.9 magnitude earthquake and tsunami devastated the coast of eastern Japan. [Getty Images]
New York Times
—
Death Toll Estimate in Japan Soars as Relief Efforts Intensify
:
Japan reeled from a rapidly unfolding disaster of epic scale on Sunday, pummeled by the death toll, destruction and homelessness caused by the earthquake and tsunami and new hazards from damaged nuclear reactors that were leaking radiation. The prime minister called it Japan's worst crisis since World War II.

Japan's $5 trillion economy, the third largest in the world, was threatened with severe disruptions and partial paralysis as many industries shut down and the armed forces and volunteers mobilized for the far more urgent effort of finding survivors, evacuating residents near the stricken power plants and caring for the victims of the 8.9 magnitude quake that struck on Friday.

The disaster has left more than 10,000 people dead, many thousands homeless and millions without water, power, heat or transportation.

...The death toll was certain to climb as searchers began to reach coastal villages that essentially vanished under the first muddy surge of the tsunami, which struck the nation's northern Pacific coast near the port city of Sendai. In one town alone, the port of Minamisanriku, a senior police official said the number of dead would "certainly be more than 10,000." That is more than half the town's population of 17,000.

Prime Minister Naoto Kan told a news conference in Tokyo late Sunday: "I think that the earthquake, tsunami and the situation at our nuclear reactors makes up the worst crisis in the 65 years since the war. If the nation works together, we will overcome."
Guardian
—
Japan earthquake: Aid flows in from across the world
: "Ninety-one countries and nine international organisations have so far offered to assist with relief efforts from last Friday's earthquake and tsunami in Japan, the government confirmed on Monday. ... Among those offering support are countries that are still recovering from the consequences of their natural disasters, such as Pakistan and Bolivia." Blub.
LA Times
—
Japan's nuclear crisis widens
: "As a second blast shakes nuclear plant, officials say the death toll from the earthquake and tsunami could reach tens of thousands. Power is rationed and rescue teams pour in."
See also:
Washington Post
:
Japanese plant races to contain meltdowns after two blasts; third reactor loses cooling capacity
.
BBC:
Fresh explosion at Fukushima nuclear plant
.
New York Times
:
Radioactive Releases in Japan Could Last Months, Experts Say
as well as
Military Crew Said to Be Exposed to Radiation, but Officials Call Risk in U.S. Slight
.