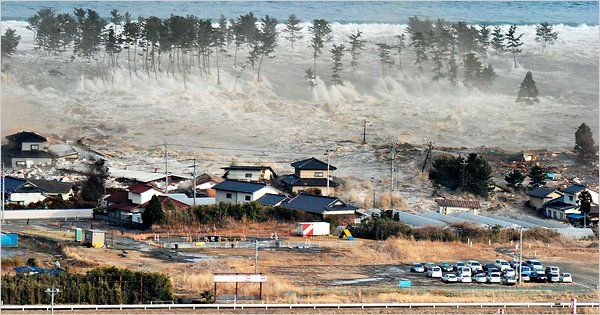 The tsunami, seen crashing into homes in Natori, Miyagi prefecture.
[Kyodo News, via Associated Press, via New York Times.]
CNN's liveblog is
here
.
NYT
has a video round-up
here
.
There are live news feeds
here
(from Japan) and
here
(from Hawaii).
New York Times
—
Huge Quake and Tsunami Hit Japan
: "An earthquake of 8.9. magnitude struck off the coast of Japan on Friday, the strongest ever recorded in the country. The quake churned up a devastating tsunami that swept over cities and farmland in the northern part of the country and threatened coastal areas throughout the Pacific and as far away the west coast of the United States and South America.Fragmentary early reports of the toll indicate that hundreds of people have been killed. Japanese police officials told the Associated Press that 200 to 300 bodies were found in Sendai, a port city in the northeastern part of the country and the closest main city to the epicenter."
BBC—
Tsunami hits Japan after massive quake
: "Japan's NHK television showed a massive surge of debris-filled water sweeping away buildings, cars and ships and reaching far inland. Motorists could be seen trying to speed away from the wall of water. A passenger train with an unknown number of people aboard was missing in one coastal area, police told Kyodo. And a ship carrying 100 people was swept away, Japanese media reported, quoting police in Miyagi. It is not clear what happened to the vessel."
LA Times
—
Tsunami waves hitting Hawaii not unusually high
: "Tsunami waves have reached Hawaii, but the first waves hitting the state are only about a foot higher than usual, according to officials and local news reports. ... There have been no immediate reports of widespread damage. Still, authorities said more tsunami waves were expected and it was too early to tell whether Hawaii would escape harm."
Coastal residents in California and Oregon are also
advised
to stay away from the beachfront this morning.
President Obama's statement: "Michelle and I send our deepest condolences to the people of Japan, particularly those who have lost loved ones in the earthquake and tsunamis. The United States stands ready to help the Japanese people in this time of great trial. The friendship and alliance between our two nations is unshakable, and only strengthens our resolve to stand with the people of Japan as they overcome this tragedy. We will continue to closely monitor tsunamis around Japan and the Pacific going forward and we are asking all our citizens in the affected region to listen to their state and local officials as I have instructed FEMA to be ready to assist Hawaii and the rest of the US states and territories that could be affected."
Once the extent of the damage in Japan is better understood, and if/when aid is established, I'll pass on that info.
My condolences to those who have lost family, friends, colleagues, pets, property. My empathy to those who have lost contact and are still trying to find out if they've lost anyone or anything.