[Trigger warning for misogyny; "joking" about the perils of female sex work.]
If only a lack of editors, as opposed to a lack of decency, was the actual explanation for the incredible publication of a "humorous" piece by Scott Feschuk titled "Escort v. Hooker: How do they compare?" which was nothing but a side-by-side list "humorously" framing escorts as glamorous and hookers as garbage. (Example: An escort has a "Heart of gold," while a hooker has "Cirrhosis of liver.")
It was also one of the most-read pieces on the site, according to Maclean's front page, before the article was taken down a few moments ago: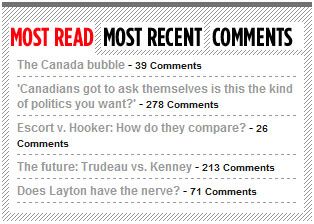 Now the
link
just leads to a page saying "Page Not Found; Try These," with links to other articles, but no explanation or apology for what was once there.
You can view my screencap of the piece
here
. My favorite part is the advertising for their subscription at the end: "Get our thought-provoking opinions delivered." LOL sure.
I hope that Maclean's will do more than simply redact the piece and pretend like it never existed. Some accountability would be welcome.

Contact Maclean's
.
[H/T to Eastsidekate, who got it from
@emmamwoolley
.]