CNN:
Anger at God common, even among atheists
.
So the researchers in question are recruiting volunteers for a study on anger at God. I'm not signing up for that-- I'm not even *not* angry at "God", because I don't subscribe to one of the big three Western religions. The "atheists" that did sign up were undoubtedly the ones that were really interested in God. Duh.
Selection bias + popular narrative = media sensation. See also: every
Science Times
story on sex and gender.
Also:
It seems that more religious people are less likely to feel angry at God and more likely to see his intentions as well-meaning, Exline's research found. [emphasis mine]
Sure, uh-huh.
Just like with people in your life, you can respect and feel anger toward God at the same time. And you can move toward forgiveness by reframing the way you view the negative event: Perhaps God was not responsible for it or that he acted in that way for a reason [emphasis mine]
Perhaps. Or definitely not, in the case of my fellow atheists. :headdesk:
CNN also recommends that you read about how "Atheists are not so smart after all." Because CNN is an asshole. It's a
story
about atheists scoring better than average on some quiz about religion. I know.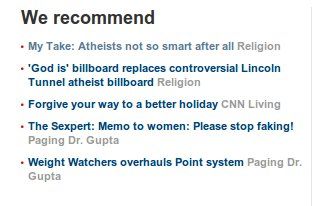 [A screen capture of CNN's website, listing five articles "We recommend", including the aforementioned article on atheists not being so smart, and as a bonus: "Memo to Women: Please stop faking!"]