This blogaround is brought to you by
ZOMBIE RATS
, which are brought to you by Toxoplasmosa gondii: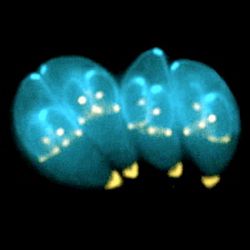 scicurious:
Friday Weird Science: HALLOWEEN MAD SCIENCE EDITION. The Zombiefying Parasite!
Image description: a fluorescence micrograph of T. gondii in blue and yellow, enhanced and resized from the one in scicurious' post.
Stacy Bias:
Big Fat Kiss-In TOMORROW in NYC, in response to Marie Claire article
Fannie:
There, I Fixed It
and
Stuff Progressives Do: Use Very Edgy Rhetorical Devices (That Marginalize the Marginalized)
Historiann:
Teaching while non-white and female
Diane Shipley at FWD/Forward:
Guest Post: Stuck and tired: How universities are failing disabled students (like me)
Angry Asian Man:
an extra in the "chinese professor" ad speaks out
. This post is a follow-up to
political ad: future china will laugh at your downfall, america
.
[TW for references to violence, both in the article and the embedded video] Steve Silberman of NeuroTribes:
I'm Right Here: Rudy Simone on Life as an "Aspergirl"
Take Back Halloween! Blog:
We're going to be on the radio!
Sociological Images: [TW fat hatred]
Men Dressing Up as Fat Women: Hilarious

and

Disgusting!
and, since people have mentioned this ad in comments here,
Beer, Sex, and "The Hunt"
.
Share your links in comments!