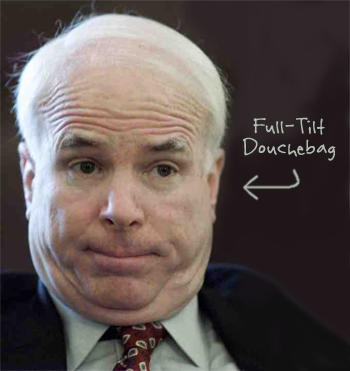 John McCain is a courageous maverick with an unwavering commitment to concrete principles. And he'll tell you how he feels about repealing the 14th amendment as soon as he knows
which way the wind is blowing
:
In the final moments of a morning press conference about the stimulus, cohosted by Sen. Tom Coburn (R-OK), McCain asked for one final question from reporters...which happened to be about the 14th amendment and birthright citizenship. McCain abruptly ended the press conference.

"We're talking about the stimulus right now," McCain said, before darting off to the elevators down the hall from the Senate studio, where he again declined to take a question. Reporters eventually caught up with McCain in the basement of the Capitol, where he was walking toward to the man-operated train connecting the Senate with the Russell office building.

TPMDC asked, "Do you support the Minority Leader's push for hearings into the repeal of birthright citizenship?"

"Sure, why not?" McCain said briefly.

"Do you support the idea itself?"

"I support the idea of having hearings," McCain said.

"Do you have a problem with the 14th amendment?" another reporter asked.

"You're changing the constitution of the United States," McCain said. "I support the concept of holding hearings."

"I support the concept of holding hearings," McCain repeated, turning to the rail car conductor.

"Let's go!" he snapped.

"I don't have anything to add to that."
That heady mix of bravery, patriotism, steadfast principles, and Old Spice you smell...? It's John McCain. Get a whiff of that, bitchez.