[Trigger warning for discussions of body size, body hatred, and image manipulation.]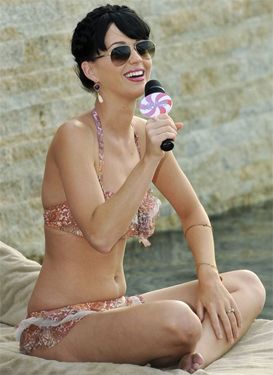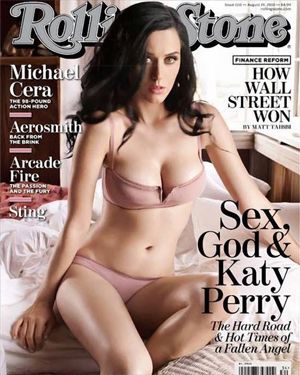 [Click images to embiggen.]
On the left: Singer Katy Perry holding a media conference on Aug. 2 in the rooftop pool of the Marina Bay Sands SkyPark in Singapore, where she's performing at the open-air music festival Singfest 2010. [
Reuters
] On the right: Katy Perry on the cover of
Rolling Stone
. [Image
via
.]
The airbrushing out of her "belly" is not merely terribly done; it's also just the most ridiculous body-hostile bullshit. I can't count the number of female friends I have seen grabbing at their waists while sitting down and lamenting, frequently with unbearably sad expressions of self-loathing, that they were "fat" because their slender stomachs pooched almost imperceptibly when they sat down,
like human bodies are designed to do
.
These pictures are lies.
They are not images of women whose bodies are "better." They are images of women whose bodies have been Photoshopped.
The real Katy Perry is beautiful. The
Rolling Stone
covergirl Katy Perry is Impossibly Beautiful.
------------------------

Please note: There are quite obviously legitimate criticisms to be made about Perry's work, but that is not the subject of this post and such comments will be considered off-topic.

By way of reminder: Comments that try to suss out what changes, exactly, were made, and even comments noting that, for example, the removal of laugh lines because they are ZOMG wrinkles actually robs a face of its character or humanity, are welcome. Discussions of how "she looks handsomer/hotter/better in the candid picture" and associated commentary (which would certainly make me feel like shit if I were the person being discussed) are not. So please comment in keeping with the series' intent, implicit in which is the question: If no one can ever be beautiful enough, then to what end is the pursuit of an elusive perfection?

[Impossibly Beautiful: Parts One, Two, Three, Four, Five, Six, Seven, Eight, Nine, Ten, Eleven, Twelve, Thirteen, Fourteen, Fifteen, Sixteen, Seventeen, Eighteen, Nineteen, 20, 21, 22, 23, 24, 25, 26, 27, 28, 29, 30, 31, 32, 33, 34, 35, 36, 37, 38, 39, 40., 41, 42, 43.]