Shaker TG just emailed me
this listing
on Craigslist, advertising a "Man Sale."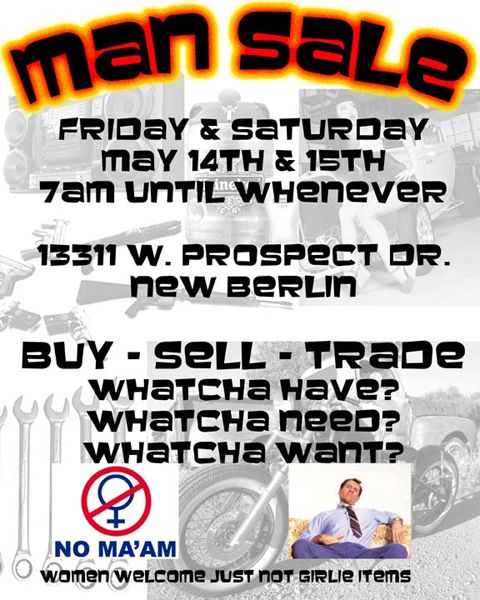 [Click to embiggen.]
The text—which is superimposed over a background collage composed of images of, I guess, Things Men Own, like stereo equipment, guns, beer, and women—reads: "MAN SALE: Friday and Saturday, May 14th & 15th, 7am until whenever. 13311 W. Prospect Dr. New Berlin. BUY – SELL – TRADE. Whatcha have? Whatcha need? Whatcha want? [Image of a struck-through female symbol, followed by an image of Al Bundy.] NO MA'AM. Women welcome just not girlie items."
While my dear friend Butch Pornstache heartily approves of any and all linguistic masculinations (mandals, guyliner, bromance), I daresay that the host(s) of this spectacular event may not have thoroughly considered the implications of replacing the traditional "rummage" or "garage" or "yard" with "man." Mixed messaging, at best.
Or maybe not. In which case, I'm looking forward to seeing what kind of men are for sale at the "Dollar & Five Dollar Tables."