So, I was watching
the trailer
for "The Good Guys" and I noticed that Colin Hanks (Tom Hanks' son, or,
according to Iain
, Tom Hanks' "weird little cousin") looks exactly like his dad. And I also noticed that he hasn't really been doing anything worthwhile lately with his career; "The Good Guys" doesn't look like an exception to that trend.
Okay. So I decided to pitch an idea to Mr. C. Hanks' agent to help get him out of this rut that he's stuck in. My plan is for Mr. C. Hanks to star in remakes of all of Mr. T. Hanks' classic films from the 80s and 90s, and they should all be
shot-for-shot remakes
directed by Gus Vans Ant, Esq.
I would first like to see a remake of
Splash
, with teen sensation Miley Sinus in the title role as the beautiful mermaid named Splash. "Hey, ya'll, my name's Splash! Don't put water on me!" It's gonna be great.
I also recommend putting immediately into production the Holy Trinity of Meg Ryan/Tom Hanks romantic comedies—
Joe Versus the Volcano, Sleepless in Cincinnati,
and
You've Got the E-Mail
—starring Mr. C. Hanks and my generation's Meg Ryan, Justin Beeper.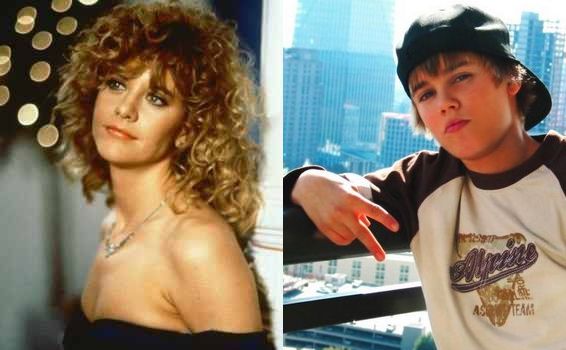 America's Sweethearts!
Think of the possibilities!
Castaway
with Kevin James as Wilson, who will get a full CGI makeover in this version. The remake of
Gorrest Fump
could see Mr. T. Hanks reprise the role made famous by Haley Joel Osment, Gorrest Fump, Jr., in full Benjamin Buttons make-up. A return to
A League of Those Ladies' Own
, the seminal favorite of lady-baseball, which reminds us of the important message, "There's no cryogenic baseball!"
In sumnation, this is an excellent idea, and Colin Hanks should do it immediately. The End.
[
Thanks to Liss for the help on this one!
]