Fat Princess. Still.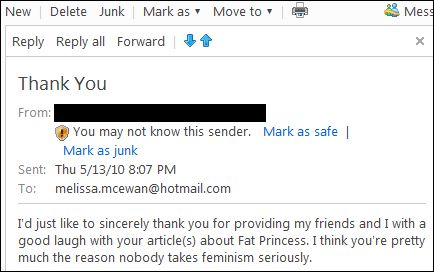 Thank You. I'd just like to sincerely thank you for providing my friends and I with a good laugh with your article(s) about Fat Princess. I think you're pretty much the reason nobody takes feminism seriously.
I had no idea "nobody takes feminism seriously." I'm so stupid I actually thought
feminists
took feminism seriously.
But it turns out, according to my helpful correspondent, no one, including the millions of women and men all over the world who identify as feminists, takes it seriously. And it's all because of me!
I am powerful. Rrrrooowwaaarrr.
[Fat Princess: Parts
One
,
Two
,
Three
,
Four
,
Five
,
Six
,
Seven
,
Eight
,
Nine
,
Ten
,
Eleven
,
Twelve
,
Thirteen
,
Fourteen
.]