The link to
this Flickr gallery
filled with photos of signs at tea party rallies has been floating around the internets for about a week. It's pretty much stuff like this: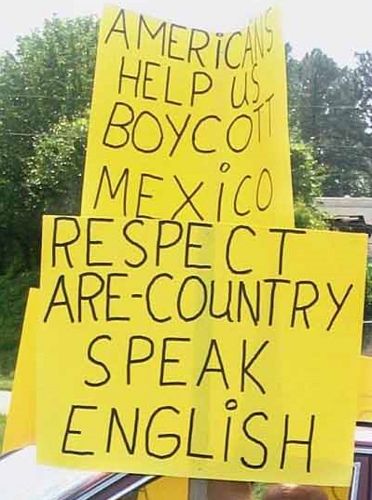 I'm far from perfect when it comes to spelling and grammar, so I'm not all that comfortable with sneering at these as examples of stupidity in the tea party movement. (Although I really am boggled by the, as
Digby mentions,
arrogance displayed in the "Speak English!" signs.) If anything, I think these signs are a fascinating look at how scattered the tea party "goals" are, (Wait, is this about taxes? Or immigration? Or the zomg birth certificate? I don't even know
what this is supposed to mean.
) and how much racism and sexism lurks beneath the surface.
Anyway.
The creator of this gallery has coined the term "Teabonics" as shorthand for "badly written teabagger signs," and that term is being spread all over the progressive blogosphere.
Seriously?
Teabonics?
I'm not the only person out there flabbergasted by this fauxgressive bullshit, am I?