I hate Dr. Drew Pinsky.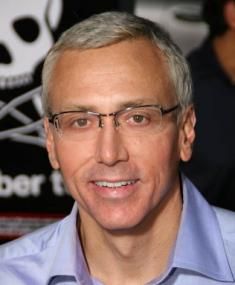 I hate him for all the years he sat beside Adam Carolla doing "Loveline" while Carolla slut-shamed young women and made "jokes" about bitches, fatties, trannies, and fags; I hate him for exploiting addicts and survivors in his loathsome "Celebrity Rehab," "Sex Rehab," and "Sober House" shows on VH1; I hate him for thinking it's appropriate to put a violent addict (Tom Sizemore) and an addict he victimized (Heidi Fleiss) into the same residential treatment; I hate him for his sanctimonious moralizing at teen moms on MTV and for always—
always
—taking the side of a young mother's parents or boyfriend, unless that boyfriend is demonstrably abusive, at which point he goes on the attack with the victim-blaming; I hate him for his comments about Lindsay Lohan and the other shit he talks about people he doesn't know like he graduated from the Dr. Bill Frist School of Diagnosing People Via the Teevee; I hate him for his
stupid books
, especially
this one
; I hate him for being a naked misogynist; I hate him for being a ridiculous, embarrassing,
obvious
star-fucker, who is literally so stupid he thinks knowing Andy Dick makes you cool; I hate him for his evident vanity and arrogance and self-righteousness, which is insufferable enough in a regular person, but downright evil when unapologetically put on display by a doctor among people who are desperate for help and compassion; and most of all I hate him for his smug face with its contrived expressions of empathy.
Just SHUT UP, Dr. Drew. Just shut up.