[Trigger warning.]
Joe Francis is mad.
To be precise, the "Girls Gone Wild" impresario is mad at
Gawker
, who recently named him their
Douche of the Decade
. No, he's not mad for being named a superdouche; he's mad because, in the associated profile, he's identified as a rapist, based on a
widely-discussed
2006 report in the
LA Times
that alleges
he is one
.
And so Francis did what any reasonable person would do in such a circumstance. He
fired off a totally absurd email
to
Gawker
founder and managing editor Nick Denton.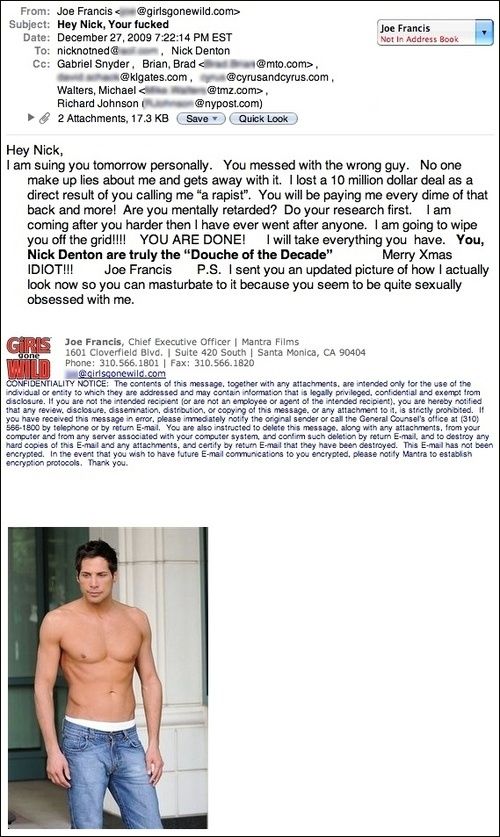 Hey Nick,
I am suing you tomorrow personally. You messed with the wrong guy. No one makes up lies about me and gets away with it. I lost a 10 million dollar deal as a direct result of you calling me "a rapist". You will be paying me every dime of that back and more! Are you mentally retarded? Do your research first. I am coming after you harder than I ever went after anyone. I am going to wipe you off the grid!!!! YOU ARE DONE! I will take everything you have.

You, Nick Denton, are truly the "Douche of the Decade

Merry Xmas IDIOT!!! Joe Francis P.S. I sent you an updated picture of how I actually look now so you can masturbate to it because you seem to be quite sexually obsessed with me.

[The message is followed by an email signature with disclaimer info, and an attached photo of Francis naked from the waist up.]
Oh dear.

And thus did the campaign for Megadouche of the Millennium begin.