Former President Mondo Fucko, widely regarded as one of the best speechifizers in the history of speechifizing, has generously decided not to withhold his glorious mouth-magic from the public for the rest of his days and has
become a motivational speaker
!
Former President George W. Bush is hitting the trail as a "motivational speaker" at a mega business seminar in San Antonio on Dec. 2.

Bush is being billed as "special guest speaker," according to the "Get Motivated" website.

...Tickets are $4.95 person (for a limited time) or $19 for an entire office.
Only five bucks?! Wow. For the honor of listening to the Bestest Brush-Clearer and Vacationing Dude in All the Land pontifimicate on the subject of gettin' motivated, I'd have expected to have to pay eight bucks, at least.
And it's not like Dubz is the only speaker! Check out the rest of this hot line-up your $4.95 will get you: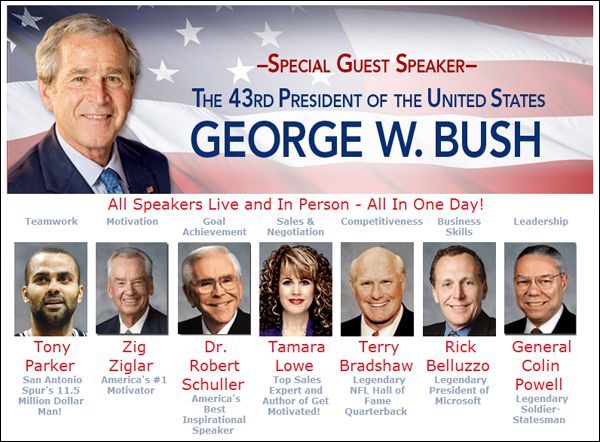 Poor Colin Powell. It's gonna take a helluva lot of fivers to buy his soul back from the devil.
CNN
's current Quick Vote (righthand sidebar) asks: "Would you pay $4.95 to attend a motivational speech by President George W. Bush?" Looks like he hasn't lost his touch with the people!