Pauly Shore, who I'm fairly certain found his way back from the wilds of oblivion by following the scent of
this post
, just showed up back in civilization in order to consult with an attorney about suing Sacha Baron Cohen for, I shit you not, allegedly stealing Shore's idea of adopting an African baby as a plot device. (No word on whether Shore will also be suing Madonna.)
In any case, this story was reported at, among other places, the gossip site
In Case You Didn't Know
, where the accompanying picture of Shore was emblazoned by a pop-up ad...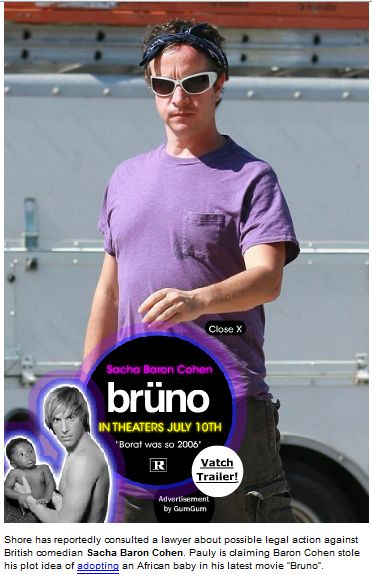 ...for
Brüno
, featuring an image of the titular character holding, natch, his adopted African baby.
I'd almost feel sorry for Shore,
almost
, if he weren't, ya know, effectively arguing: "Hey! That
totally racist joke
was mine first!"
lolsob
If I hadn't
already
quit the world today, I would now.