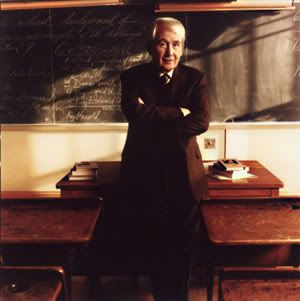 Frank McCourt, a former NYC schoolteacher at Stuyvesant High School who wrote the Pulitzer Prize-winning memoir,
Angela's Ashes,
along with
'Tis
and
Teacher Man
,
has died
at age 78.
Mr. McCourt, who taught in the city's school system for nearly 30 years, had always told his writing students that they were their own best material. In his mid-60s, he decided to take his own advice, sitting down to commit his childhood memories to paper and producing what he described as "a modest book, modestly written."

In it Mr. McCourt described a childhood of terrible deprivation. After his alcoholic father abandoned the family, his mother — the Angela of the title — begged on the streets of Limerick to keep him and his three brothers meagerly fed, poorly clothed and housed in a basement flat with no bathroom and a thriving population of vermin. The book's clear-eyed look at childhood misery, its incongruously lilting, buoyant prose and its heartfelt urgency struck a remarkable chord with readers and critics.

"When I look back on my childhood, I wonder how I survived at all," the book's second paragraph begins in a famous passage. "It was, of course, a miserable childhood: The happy childhood is hardly worth your while. Worse than the ordinary miserable childhood is the miserable Irish childhood, and worse yet is the miserable Irish Catholic childhood."

..."I think there's something about the Irish experience — that we had to have a sense of humor or die," Mr. McCourt once told an interviewer. "That's what kept us going — a sense of absurdity, rather than humor.

"And it did help because sometimes you'd get desperate," he continued. "And I developed this habit of saying to myself, 'Oh, well.' I might be in the midst of some misery, and I'd say to myself, 'Well, someday you'll think it's funny.' And the other part of my head will say: 'No, you won't — you'll never think this is funny. This is the most miserable experience you've ever had.' But later on you look back and you say, 'That was funny, that was absurd.'"
RIP, Frank.