"Michelle, she looks fabulous. I am a little frumpy. Up until a few years ago, I only had four suits. She used to tease me because they would get really shiny. … Those jeans are comfortable, and for those of you who want your president to look great in his tight jeans, I'm sorry—I'm not the guy."
—
President Barack Obama
, on the
Today
show, defending the "bleached and baggy 'dad jeans' he wore to the Major League Baseball All-Star Game in St. Louis July 14."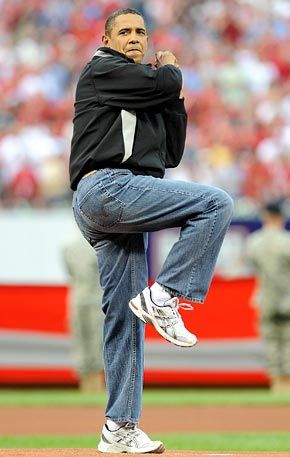 I really hate the terms "dad jeans" and "mom jeans" when what someone really means is "unfashionable jeans." Lots of moms and dads wear fashionable jeans, so those horrible little euphemisms really need to die.
Anyway, I guess we're going to have to go through this every time Obama wears casual clothes. Remember when he was photographed
riding his bike
, and the media couldn't get enough of talking about what a HUGE NERD LULZ he is?
(Except, of course, when he's shirtless. Then it's time to
sexualize
"President Beefcake" in a way no other president has been sexualized.)
Go on with your bad jeans, Mr. President! At the home of the
What-the-Hellers
, you will not be judged, friend.