"Conference" spelled wrong on banner at Pat Buchanan-hosted event
for "English-only" advocates
: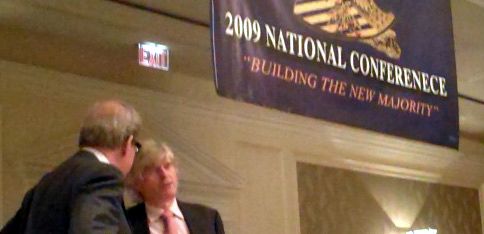 I'm not suggesting that not being able to spell (or edit) everything correctly makes one a bad person or in any way
less than
. (Maude knows I make enough mistakes around here!) I am, however, suggesting that the irony inherent to "English-only" fuckwads of the Moral Majority—who
do
attach superiority to language—misspelling something on their own banner,
thus exposing themselves as contemptible according to their own asinine calculations
, ought to be hilariously embarrassing enough to make them rethink their position.
Of course, in the grand tradition of conservative double-standards, what would be contemptible—and evidence of Everything Wrong With Multiculturalism ZOMG!—if done by a brown-skinned immigrant is just an honest mistake when done by an upstanding member of the Moral Majority.