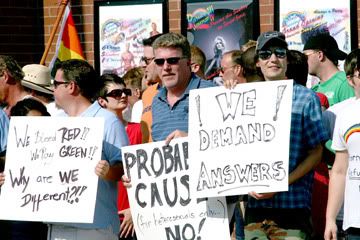 A raid by Ft. Worth police on a gay bar Saturday night, the fortieth anniversary of Stonewall, lead to several arrests and left one person hospitalized.
[S]even people were arrested in the raid although witnesses at the scene said many more people were handcuffed with zip ties and taken out of the bar. One man, identified by his sister as Chad Gibson, was in the intensive care unit at Fort Worth's JPS Hospital with bleeding in his brain after officers threw him to the ground and used zip-ties to handcuff him.
(The story played out
here
,
here
,
here
,
here
,
here
,
here
,
here
,
here
,
here
, and
here
over the weekend.)
To sum up briefly, the cops arrived with a police van and zip-tie handcuffs, under what may be rather flimsy pretenses and carted off several allegedly intoxicated patrons of Ft. Worth's newest gay bar. Some arrestees were charged with groping arresting officers. One man received a head injury when police threw him to the ground. He is now in critical condition.
Civic leaders are calling for an investigation. A rally was held last night
in response
.
(Sorry for dashing this off with no commentary, things have been busy here this afternoon, and I wanted to get word out.)
[H/T to
InfamousQBert
.]