Three uproariously "odd" stories from Reuters' "
Oddly Enough
" news service today (sandwiched, you'll notice, between wacky stories about Mel Brooks' "The Producers" and a Japanese pop star). Are you ready for the hilarity?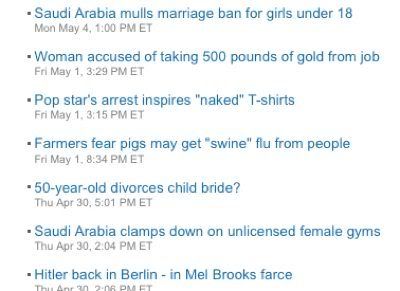 First up: "Saudi Arabia mulls marriage ban for girls under 18"
Saudi Arabia may ban marriage for girls below 18, a government minister said after a case of an eight-year old girl marrying a man more than 40 years her senior drew international criticism and embarrassed the kingdom.

"Among the options that are available and excluding the issue of puberty, is to ban marriage for (people) under 18," Justice Minister Mohammed al-Eissa told Asharq al-Awsat newspaper.

He was responding to a question about his ministry's plan to deal with the marriage of young girls.

"A girl below 18 is often not fit to take the family responsibility especially if she quickly gives birth (after marriage)," he said.
A patriarchial society reconsiders its repugnant tradition of forced marriage and child rape: How
madcap
!
Second, in related news: "50-year-old divorces child bride?"

EDDAH (Reuters) – A 50-year old Saudi man has agreed to divorce his 9-year-old bride, media reported on Thursday, after the marriage drew international criticism.

The decision, reported by newspapers Alwatan and Al-Riyadh, came after months of court hearings, criticism from the United Nations and an international media frenzy about Saudi Arabia's human rights practices.

The child's mother, who opposed the marriage which took place when the girl was 8 years old, took the case to court last year. The court in the small town of Onaiza upheld the marriage on condition that the husband did not consummate it until the girl reached puberty.
Eight-year-olds forced to marry men old enough to be their grandfathers: How

wacky

!

Finally, we have: "Saudi Arabia clamps down on unlicensed female gyms"

Unhappy at the growing number of unlicensed female gyms, the Ministry of Municipal and Rural Affairs recently closed two in the Red Sea city of Jeddah and one in the city of Dammam on the Gulf Arab coast for not having a license.

Female participation in sports has long been a controversial issue in the kingdom, with physical education banned from public girls' schools and clerics issuing religious prohibitions on female participation in sports.

While male gyms get licenses from a government sports body, female gyms have no official authority overseeing them.

"The idea of female fitness is non-existent within our government," said Fouziah Alouni, a prominent women's rights campaigner.

"Depriving women of this is yet another way of marginalizing them. Give us a justifiable reason or leave woman alone. This is unbearable."

"Football and basketball are sports that require a lot of movement and jumping," Sheikh Abdullah al-Maneea, member of the official Supreme Council of Religious Scholars, said in a religious opinion published in Okaz newspaper Thursday.

He said such excessive movement may harm girls who are still virgins, possibly causing them to lose their virginity.
Women and girls restricted to their homes, at risk to their health, by a government and society that systematically marginalizes them: How

zany

!

What these stories have in common, of course, is that they aren't "odd" at all. (Unlike, say, the stories about "rare goats" and "naked T-shirts" that appear alongside them.) Outright oppression of women is the norm in Saudi Arabia, where, as a woman quoted later in the story notes, many men "don't like women to go out of their homes." As Melissa has pointed out countless times, relegating women's stories to the "odd news" bin

simply because they're about women

is a way of systematically marginalizing women's experiences. It's a vicious, self-justifying circle: Treating women's stories as trivial--a zany rape/murder, a wacky abuse case--only reinforces a society that treats women

themselves

as trivial. And on and on and on.

[H/T to Shaker OuyangDan. How Odd: Parts One, Two, Three, Four, Five, Six, Seven, Eight, Nine, Ten, Eleven, Twelve, Thirteen, Fourteen, Fifteen, Sixteen, Seventeen.]