Before I jump into this post, I just want to state plainly that I don't get anything in return from recommending these books. (Well, not directly—although if everyone read these books and paid attention to what they had to say, there's no doubt I'd benefit, as would we all, lol.) Similarly, I don't get anything in return for recommending purchase from
Women & Children First
. It's just a feminist bookstore in Chicago that I really like and want to support.
I'll also apologize, to you and to the authors, for being a truly abysmal book reviewer—it's definitely not one of my talents. So, I'm not really going to do any kind of traditional reviewing; I'm just going to tell you why I liked them and think they're important.
The Purity Myth: How America's Obsession with Virginity Is Hurting Young Women by Jessica Valenti
Most of you probably already know Jessica as the founder and editor of
Feministing
, and/or as the author of
Full Frontal Feminism
and
He's a Stud, She's a Slut…and 49 Other Double Standards Every Woman Should Know
, both of which could be described as feminist primers.
The Purity Myth
, then, takes readers to the next level, leading them on an in-depth exploration of a single subject. Through religion, porn, public shaming, defining masculinity in contradistinction to the feminine, readers are led through all the different narrative threads that come together to weave the Purity Myth.
It's not exhaustive—the book limits its journey to America's "moral panic" (love that description) about young women's sexuality, and how it manifests primarily in mainstream American culture. Which is not to suggest it doesn't have wider application (because it does), but only to note that if you're looking for a comprehensive global book on how virginity is enforced, this isn't it. This is principally about deconstructing the very specific mainstream American Purity Myth—and sharing prescriptive ideas for undermining it.
The Purity Myth
is a great book to give to anyone coming to (or in need of) feminism (including young men), and it's an enjoyable read even for battle-scarred feminists, for the sheer pleasure of seeing all the threads of the Purity Myth unraveled in one long go.
Buy it here
.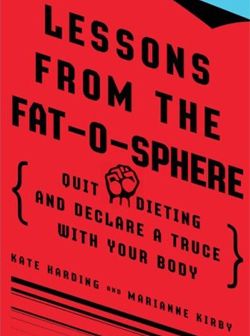 Lessons from the Fat-O-Sphere: Quit Dieting and Declare a Truce with Your Body by Kate Harding and Marianne Kirby

I haven't actually read this one yet because someone hasn't sent me a copy! But I'm going to go ahead and recommend it nonetheless because: A. Hello, it's Kate and Marianne; B. I read the book proposal so I know how awesome it's going to be; C. The book comes out TODAY, bitchez! and D. I'll let Marianne explain:

One of the most frequent questions I've heard lately is, "Isn't this just giving up?"

And, you know? Sure, it's giving up. It's giving up on the idea that I have to conform to an impossible standard to have worth. It's giving up the damaging (to both physical and mental health) practice of dieting. It's giving up the rage that gets turned inward when yet another diet doesn't work.

Those are all things I can give up with absolute relief.

It's taking on a lot of new things, too. Like the endless task of resisting cultural messages about the worth of women's bodies. Like the responsibility of listening to your body and relearning its language when it comes to food and health and everything else, too. Like the strength to do things that you have been putting off (a la the Fantasy of Being Thin) and actually embrace living instead of postponing it.

It's not the world's easiest trade off. Body acceptance, no matter what size you are, is a contrary goal. Advertising and women's magazines and popular culture is constantly telling all of us that we aren't good enough, that if we try this one more product, we'll finally reach acceptability. Body acceptance is hard work.
And so a handbook will be useful for those just starting on that journey. Buy it here.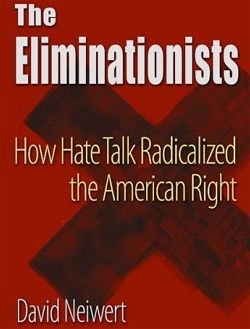 The Eliminationists: How Hate Talk Radicalized the American Right by David Neiwert

If you're not already reading Dave at his home blog Orcinus, or at Crooks & Liars, where he serves as Managing Editor, all I can say is: You're missing some good shit. He's the foremost expert on eliminationist rhetoric, whose ten-part series (start here) on eliminationism is one of the best examples of all that is good about the blogosphere.

In The Eliminationists, Dave takes head-on the "transmitters" of rightwing eliminationist rhetoric, who serve as conduits for bringing fringe ideas into the mainstream and details how they speak to and connect two audiences:

The first (and by far the largest) is made up of the many millions or ordinary mainstream conservatives who tune in and log on to the Right's army of media talking-heads and movement leaders. The second includes their xenophobic counterparts on the far Right, where the memes come from in the first place. For the latter, these transmissions signal that their formerly unacceptable beliefs are gaining mainstream acceptance; they hear these transmissions as an invitation for them to move into the mainstream without having to change their views. The former hears them as an invitation to think more like the latter without shame.
This is how we end up with "real Americans" driving around with a "liberal hunting permit" (that misspells "rallies") on their bumpers: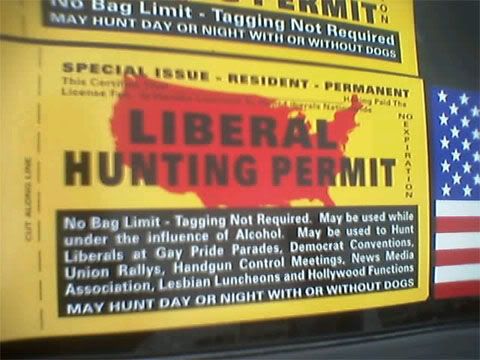 —and it's defended as a joke, and anyone who doesn't find it hee-liarious is just a humorless hysteric. If you've ever asked yourself how the hell we got to that point, The Eliminationists answers that question exactly. Buy it here.