by Shaker Erin W
,
a recent law grad and aspiring emigrant who's just trying to figure out what comes next. She is honored to be invited to do another guest post at Shakesville.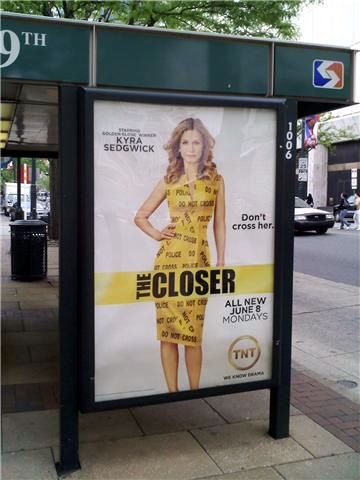 The image above is a poster advertising the TNT series
The Closer
. That one happens to be on a bus shelter, but I've seen the same image on billboards and
on the show's homepage
.
There are a number of things I plan to deal with in this post, because the image raises quite a few issues for me. The first one I'd like to get out of the way, though, is to address
the myth that feminists go out looking for things to complain about
. I know nobody here subscribes to that idea, but this poster can help me illustrate the absurdity of it.
The first place I saw this poster was not on this bus shelter, but rather in the subway station where I transfer every morning. Because of the timing of trains I don't have time to stroll through the station admiring the advertising. I just have time to speed walk from one platform to the other if I want to get where I'm going on time. But even going full-speed through the station, this image was enough to catch my eye and disturb me. The plural of anecdote isn't data, but that ought to be worth something.

On to the image itself. At first I was sure Liss had already blogged about this, but it turns out the idea of crime scene tape as adornment is not original to TNT's marketing department. I don't think I like this trend. Now, I'm sure the good folks at the ad agency thought they had a clever idea. Kyra Sedgwick's character is a Deputy Chief of Police for LAPD's major crimes division, and the juxtaposition of the tagline "Don't cross her" with the visual pun of "Do Not Cross" on the tape probably seemed too good to pass up.

The problem, of course, is that the association that immediately jumped to my mind (as well as the friend I discussed this with after showing her the photo) is not one of a clever play on words but rather the idea of women's bodies as literal crime scenes. Too often due to rape, assault, and murder, the woman surrounded by a literal or metaphorical police cordon was "crossed," and, as it so often does, it ended badly for her. And I speak as someone who, fortunately, has never been in the position of crime victim. If I'm seeing this, unprimed as it were and bolting by on the way from one train to another, what must it be like for the women who have to stand in front of this image for several minutes while waiting for the subway and who are triggered by this sort of image?

Moreover, why was no one at the ad agency or at TNT able to see the image this way? Was it a lack of women on the design team? A culture that treats these sorts of crimes against women (especially PoC, queer, older, poor, fat or trans women) as too unimportant to worry about? A privileged position in which the thought never entered the advertisers' heads because they personally don't have to worry about the implications of this image? Maybe it was something else entirely that I just don't see from where I'm sitting, but I have trouble letting them off the hook, even if it was an innocent oversight. An ad designer's job is to understand the messages their images convey, intended and unintended.

There's another aspect to this ad that makes it worse to me. Not only did I consider this an Assvertising candidate, it later struck me that this ad might also be a candidate for Impossibly Beautiful. I'm not the best at comparing visual details unless you point a big red arrow at them for me, and I wasn't able to find many photos of Ms. Sedgwick that weren't themselves impossibly beautiful and therefore useless as a comparison, or were too different an angle for me to make a good comparison. The best one I can find is at the end of this paragraph. The one thing that jumps out at me is that her cheeks are missing in the advert. It could just be the difference between a straight face and a smile, but in the other images her cheeks definitely seem to stand out. Not so much on the poster. Any help on this in comments would be appreciated.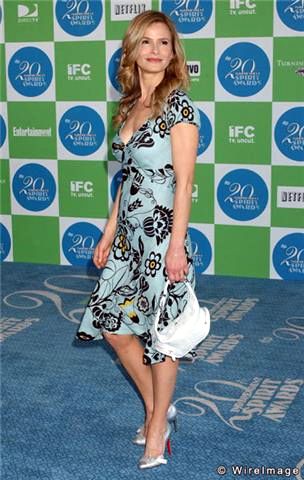 The fact that I'm even worried about this is a problem in itself, though. Again, it's bad enough to use the image of woman as crime scene in an advert. To then touch up the "victim's" image in the way of all modern advertising just contributes to the disappearing of crimes against women who don't fit the CNN formula of young, white, and blonde. Even when you've been violated, it only matters if you're appropriately photogenic, after all.

[Assvertising: Parts One, Two, Three, Four, Five, Six, Seven, Eight, Nine, Ten, Eleven, Twelve, Thirteen, Fourteen, Fifteen, Sixteen, Seventeen, Eighteen, Nineteen, Twenty, Twenty-One, Twenty-Two, Twenty-Three, Twenty-Four, Twenty-Five, Twenty-Six, Twenty-Seven, Twenty-Eight, Twenty-Nine, Thirty, Thirty-One, Thirty-Two, Thirty-Three, Thirty-Four, Thirty-Five, Thirty-Six, Thirty-Seven, Thirty-Eight, Thirty-Nine, Forty, Forty-One, Forty-Two, Forty-Three, Forty-Four, Forty-Five, Forty-Six", Forty-Seven, Forty-Eight, Forty-Nine, Fifty, Fifty-One,Fifty-Two, Fifty-Three,Fifty-Four, Fifty-Five, Fifty-Six, Fifty-Seven, Fifty-Eight, Fifty-Nine, Sixty, Sixty-One, Sixty-Two, Sixty-Three, Sixty-Four.]