[Part One
here
. Please note: These are not Photoshopped images. They are actual unretouched public images of women. Please do not adjust your screen or call the authorities. These women are not Impossibly Beautiful, though they are beautiful, in every way.]
This is one of my favorite pictures of Mama Shakes (which I am posting with her permission, of course), taken in Central Park during the summer of 1980.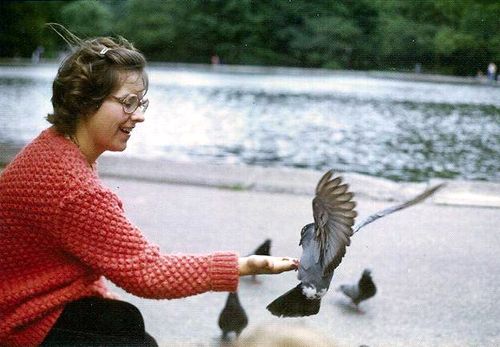 And, as I mentioned the other day, my grandmother Mil had a wonderful sense of humor, which is evident here, in the note she included on the back of this photo taken at Christmas, 1979, and mailed to my mom, her daughter, in January. (It is important to note, here, that in 1979, I was five years old, and I was a cowgirl, and, as such, I received a Lone Ranger playset, including poseable horse and Lone Ranger action figures.)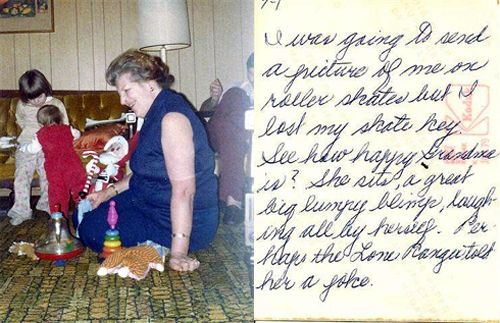 [Click to embiggen.]
The note reads: "I was going to send a picture of me on roller skates, but I lost my skate key. See how happy Grandma is? She sits, a great big lumpy blimp, laughing all by herself. Perhaps the Lone Ranger told her a joke."
More bonus Lil!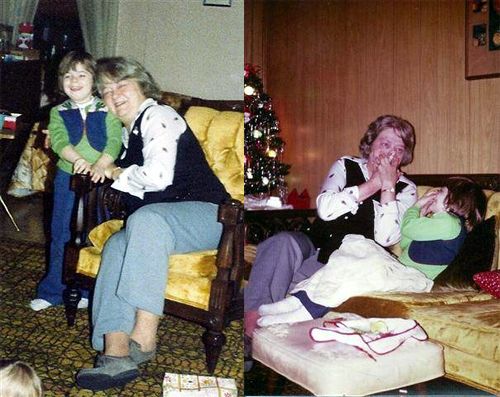 Little Liss, in one of her cowgirl outfits (those are cacti on my shoulders), poses nicely with Lil. And later, after the two troublemakers have used up all their energy behaving for a single picture, Lil teaches Lissie how to make a stupendous piggy face.