As we know,
complaints have been filed
regarding the sudden arrival of hot weather. I realized that I had better oil up my sewing machine and get to work on summer clothes before it's time to make fall wardrobe basics (I'm sure some highly organized sewists are already hard at work on structured tweed jackets,
harumpfh
).
I decided to warm up with an easy project, based on
this terrific tutorial
from open-source sewing site
BurdaStyle
. The tutorial gives clear instructions for converting trousers into a skirt. I used a nice pair of khakis (Ralph Lauren "classic chinos") that I got very slightly used on eBay for $7. The pants didn't fit properly, so I never wore them. I think I will now: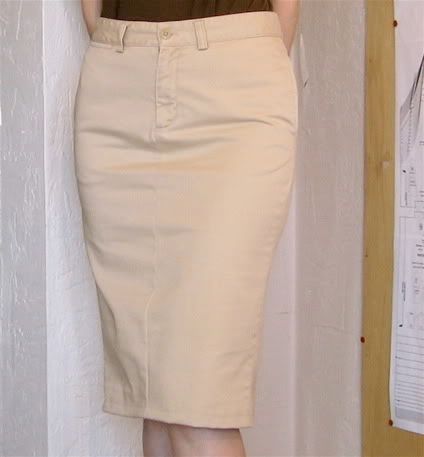 This project is best for pants that are wide-legged and/or too big; otherwise there will not be enough walking ease in your skirt. My pants were slightly too large all over, and had clearly too much room around the upper thighs and seat. The resulting skirt is slim-fitting; I'd say I had barely enough material to work with, and I started with pants a size too large.

The picture above reveals a problem with skirts made from pants: there is a horizontal crotch-wrinkle and tiny dimple below the fly. The skirt in the Burda tutorial looks the same. Diligent pressing goes a long way to correcting this flaw, but there is only so much that can be done. Due to the way that pants are cut and sewn, the grainline (PDF link) of the fabric will be slightly distorted around the crotch area, especially after some wear.

More notes:


1.

You learn a lot about how garments are put together by taking them apart, so this project is a great exercise. When you rip out the inseams and open up a pair of pants, they will be shaped more or less like these pants pattern pieces (these two pieces represent half the garment. Of course your pants will be a double layer, and the outside leg seam will be sewn):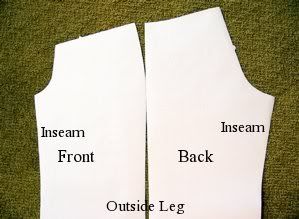 2.

The BurdaStyle tutorial says that you can lay a basic straight or A-line skirt pattern over the pants after you have cut the inseams and laid the garment out with the crotch seams and inseams to the sides (step 3 of 7 in the tutorial). I did not bother with a pattern; I just cut off the peaks of the crotch curve and blended to the hemline as they show in the pictorial.



3.

When the tutorial says "add the pleats" in step 6, I assume they mean a kick-pleat or back vent for ease of movement. I added a 15 cm basic vent at the center back seam by leaving 15 cm of the seam unsewn at the bottom, clipping about 1 cm on each side, and then folding under and hemming that 1 cm of fabric. I then reinforced the top of the vent with stitches just across the point.



4.

Since the pants were too large to begin with, I took in the waistband at its center back seam, more or less like this.