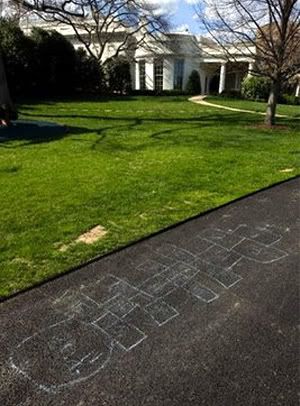 [H/T to Shaker daveotr in comments, c/o Jill.]
What I love about this one is that hopscotch is the ultimate female brand (which is actually quite funny, considering the game was invented by Alexander the Great, but there you go). If "Girls Were Here" had been written in chalk in 10-foot-high letters it wouldn't convey the message any more strongly than does an abandoned hopscotch court, for reasons I will allow Mr. Eddie Izzard to elucidate.

[Transcript below.]
…In my James Mason voice: "Grim Reaper, you could not get the women? What was the problem? Didn't you reap them with your grim reaping equipment?"

"I tried that, but the women—they all know hopscotch! And they leapt over…" [mimes hopscotching away]

They did! And it's a secret, religious, weird, ceremonial rite of passage for girls—the women know. And hopscotch was bizarre for boys, because boys never played. And, as a boy, I was behind walls [mimes peeking around a corner] going, "What—what happened? What did they do? What do they do here?" And they had a track laid out with numbers—mystic numbers—one, five, seven, eight, you know, a bit of a broken doll there, some girl keeping lookout with a skipping rope [mimes skipping rope], in case the clergy came by. "Run, run! It's the clergy! Run—it's the pope and everyone!"

'Cuz they do all that skipping stuff, don't they, young girls? Young girls and huge fuck-off boxers are the two groups of people that have a joining line. [Elaborate and hilarious mime about little girls and boxers skipping rope and doing double-dutch.]

…So I was talking about hopscotch! Hopscotch—this strange religious experience. All the numbers there, and there was one girl on the course, they go girl by girl, and they go [sings]: "Frère Jacques, Frère Jacques: Dormez vous? Dormez vous?" [mimes hopscotching] …And at some point, you go, "Oh no! Fucked it up! Ahhh!"

And boys watching [mimes peeking around a corner] were going, "What? Did what wrong? Fucked up what? What did they do right?! It makes no sense!"

And then [the girls would] all drift off and boys would walk over the course: "What happened here? We should do an archaeological dig."