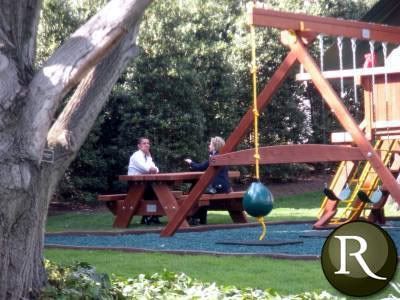 The weather was so nice [yesterday] in fact, that, after President Obama received his economic briefing and met with Defense Secretary Robert Gates in the Oval Office, the POTUS and Secretary of State Hillary Clinton decided to hold their 4:15 meeting out behind the White House—next to the swing set installed for the Obama girls in March.

Striding out from the West Wing, the two seemed thick as thieves—smiling, Secretary Clinton casually swung her leg over the bench on the east side of the playground, and the president grinned and waved to gawking reporters and staff as he sat down across from her. (Link; Photo Credit: Dayo Olopade)
The ironic thing about this picture is that it reminds me how thrilled I am to have grown-ups in charge again.
[H/T to Shaker Constant Comment.]