I know women aren't supposed to "get" the Three Stooges or wev, because of the congenital birth defect known as "having a vagina," but I don't really think my utter perplexity in response to
this
has anything to do with my ladybits:
MGM and the Farrelly brothers are closing in on their cast for "The Three Stooges."

Studio has set Sean Penn to play Larry, and negotiations are underway with Jim Carrey to play Curly, with the actor already making plans to gain 40 pounds to approximate the physical dimensions of Jerome "Curly" Howard.

The studio is zeroing in on Benicio Del Toro to play Moe.
Okay, just to be clear, this is what we're talking about: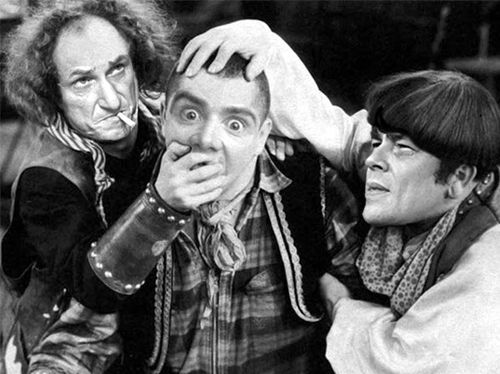 Which, you know, might actually makes some sense if we were talking about a biopic directed by Milos Forman, but:
The film is not a biopic, but rather a comedy built around the antics of the three characters that Moe Howard, Larry Fine and Howard played in the Columbia Pictures shorts.
Does not compute.
In good news, I guess this does mean there's still hope for my unoptioned screenplay, "Spicoli Visits Uranus."
It's a screwball comedy.