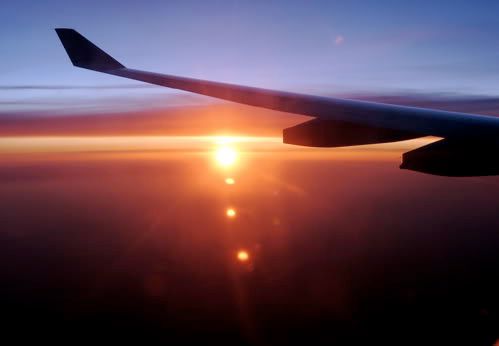 Chasing the sun on a flight from Philadelphia to Madrid, 2007*
Happy Sunday, Shakers! I've been a bit AWOL lately, as I was preparing to travel to my parents' to help out while my mother recovers from her
shoulder replacement.
I am now awaiting my flight at Pittsburgh International Airport's gate D81. I love this airport; it is
one of the few to have free wireless internet access.
I will be pretty busy both helping my mother and doing the things she usually does, which includes a lot of
caring for her grandkids
. So I may not be as present in comments as I'd like. But I'll still be around, posting as I can. Enjoy the rest of your weekend, folks!
____
* Sorry; it's a bit confusing to use a photo of an entirely unrelated trip for this post, but the light is terrible in Pittsburgh this morning and there are no good shots to be had on the spot. Also, I love this image and find it uplifting!