Since I've had to write a
couple
of
posts
about women-hating already today, I thought I'd take a moment to do a little woman-loving teaspooning…
Shakers, can we talk about how much I totally love Niecy Nash?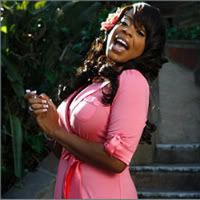 If she looks familiar, but you can't quite put your finger on whence you know her, it could be as Bernie's tragic sister Benita on
The Bernie Mac Show
, or perhaps it's as Deputy Raineesha Williams on Comedy Central's
Reno 911
, whose allure and talent are only rivaled by her glorious (prosthetic)
bum
.
Then again, it could be as the delectably sassy host of
Clean House
on the Style network, where she is equal parts conduit for our vicarious horror at uncontained clutter and compassionate psychologist, getting down to the underlying reasons why the clutter has been allowed to run amok and overtake the lives into which she's been invited for a day or two to help facilitate a Cntl + Alt + Delete on a ginormous life mess.
And if you
don't
recognize her, what I can tell you about Niecy Nash is this: She's awesome. Hilarious, clever, and wildly charismatic. I just love to
watch
her. She is joyful, and she makes me grin.
She also gives
good interview
:
Tony Cox: Your voluptuousness—that's a good thing, but is it also a burden for you?

Niecy Nash: No, I mean, it's what is it—what are you gonna do? … I mean, even when I was, you know, I lost 45 pounds a few years ago, and, you know, up, down, whatever. You know, I'm just happy to be here another day. The outer wrappings are gonna do what they're gonna do, you know what I mean? And there's always gonna be somebody who like it!
I love her. That is all.