I have spent the better part of my journalism career as an opinion writer. First at weekly newspapers and then at daily newspapers and now as a blogger. As a reporter, my experience is mainly in the sports, where I have covered everything from college gymnastics to college football. I have been a news reporter but have maybe a year's worth of experience, with most of that being a small-town reporter, though I spent about two years working as a news copy editor at a daily.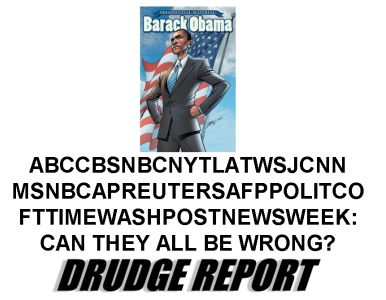 So while I may not have years covering beats under my belt, I have spent a good amount of time with reporters notebook in hand, jotting down notes as fast as possible. I am a journalist. And I am damned proud to be a journalist.
I write this due to a column written by
Michael S. Malone at the ABC News Web site
. In it, Malone laments what he sees as the contemptible way that American journalists have gone in the bag for Barack Obama. Despite presenting mostly anecdotal evidence, Malone feels as though American journalism has forever crumbled, leaving true pros like himself feeling ashamed.
[W]orst of all, for the last couple weeks, I've begun -- for the first time in my adult life -- to be embarrassed to admit what I do for a living. A few days ago, when asked by a new acquaintance what I did for a living, I replied that I was "a writer," because I couldn't bring myself to admit to a stranger that I'm a journalist.

To say that Malone's rant is self-serving is putting it lightly, but it has thrilled Conservatives. Malone goes to great lengths to let everyone know his hallowed three-decade career as a journalist in the "traditional media," yet his main - and only -- concrete proof of the bias is this:

Why, for example to quote the lawyer for Republican presidential nominee Sen. John McCain, R-Ariz., haven't we seen an interview with Sen. Obama's grad school drug dealer -- when we know all about Mrs. McCain's addiction? Are Bill Ayers and Tony Rezko that hard to interview? All those phony voter registrations that hard to scrutinize? And why are Sen. Biden's endless gaffes almost always covered up, or rationalized, by the traditional media?

So basically, Malone is now ashamed to admit that he's a journalist because he perceives a pro-Obama bias. Was he outraged over the media's cheerleading for the Iraq War? Or how the media spent the better part of the decade as the Bush Administration's stenographer? Or how the media has long had an admitted love affair with John McCain? Or how the mainstream media has avoided reporting on McCain's relationship with convicted felon Rafaello Follieri? Not so much.

Of course, the man who wrote "The traditional media are playing a very, very dangerous game -- with their readers, with the Constitution and with their own fates," may have a touch of his own bias. After all, he doesn't seem to be against being biased when he feels it's deserved, as he did when he wrote a book about Steve Jobs:

"Some reviewers claimed I had an animus against Jobs. Perhaps so, but it was well earned."

So being biased is fine provided it has been earned in Malone's world. But is it possible that Malone - the brave voice assailing a corrupt and biased "traditional media" have a political bias of his own? He does seem to have a cozy relationship with Instapundit Glenn Reynolds. And Hugh Hewitt.

Malone has written columns for Pajamas Media. He's also had a bizarre defense of the free-market system that could have come directly from Milton Friedman:

From where I sit, the United States government has embarked on two pieces of social engineering in the last few years. One was to make oil expensive as expensive as possible to drive people to greater use of alternative energy sources - because anything less would be irresponsible and destructive to the environment. The other was to enshrine home ownership (i.e., easy-to-obtain mortgages) as a new American right - because anything less would be unequal and racist.

None of us voted on these decisions - indeed, neither was even spoken about directly, much less debated. But nevertheless, both became national policy… and both have sparked national, now international, crises. Then, once they became crises, both were blamed on 'greedy capitalism', instead of what they really were: legislative interference into market forces.

Also, Malone's personal finances shows that he's likely to be someone who would be fearful of Obama's tax plan:

[W]e've also been comparatively wealthy, bought houses and property, driven fancy new cars, and traveled the world. And though I've done some really humiliating scut writing jobs -- press releases, annual reports, brochure copy, ghostwriting, etc. -- I've also been free to do the kind of writing I've always dreamed of: books, newspaper columns, magazine essays, even a television miniseries.

In the end, Malone's admission that he feels ashamed to be a journalist says a lot more about him than about journalism. Because I'm in no way pleased with the state of American journalism. But it's not hard for me to see why so much negative coverage is going McCain's way - as the saying goes, they don't write stories about houses that aren't on fire.

But regardless of my opinions or my own admitted bias, I still place a high regard on the truth. I am still a journalist. And damned proud to be one.

--WKW

Crossposted at Williamkwolfrum.com