Sure,
this billboard
is totally offensive to anyone with any sense of decency or decorum, but it's
free speech
!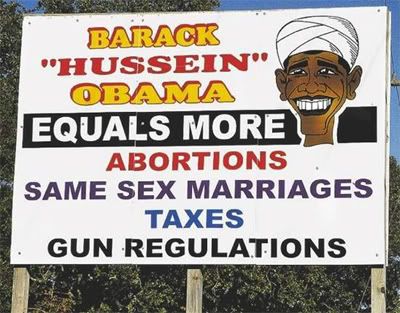 I, Melissa "Lyn" McEwan, would like to note that self-censorship is not a restriction of (nor anathema to) free speech. As I've
said before
, I self-censor all the time, because I don't consider refusing to use language and images that perpetuates oppression to be the equivalent of enslaving myself to the language police (whoever they are); I just consider it doing the basic work required of someone who doesn't want to be a fucking asshole. If you can't make your point without gross racist caricatures, maybe you need to consider that your point
isn't worth making
.
(Thanks to Shaker
Azak
for the heads-up.)
[Obama Racism/Muslim/Unpatriotic/Scary Black Dude Watch: Parts One, Two, Three, Four, Five, Six, Seven, Eight, Nine, Ten, Eleven, Twelve, Thirteen, Fourteen, Fifteen, Sixteen, Seventeen, Eighteen, Nineteen, Twenty, Twenty-One, Twenty-Two, Twenty-Three, Twenty-Four, Twenty-Five, Twenty-Six, Twenty-Seven, Twenty-Eight, Twenty-Nine, Thirty, Thirty-One, Thirty-Two, Thirty-Three, Thirty-Four, Thirty-Five, Thirty-Six, Thirty-Seven, Thirty-Eight, Thirty-Nine, Forty, Forty-One, Forty-Two, Forty-Three, Forty-Four, Forty-Five, Forty-Six, Forty-Seven, Forty-Eight, Forty-Nine, Fifty, Fifty-One, Fifty-Two, Fifty-Three, Fifty-Four, Fifty-Five, Fifty-Six, Fifty-Seven, Fifty-Eight, Fifty-Nine, Sixty, Sixty-One, Sixty-Two, Sixty-Three, Sixty-Four, Sixty-Five, Sixty-Six, Sixty-Seven, Sixty-Eight, Sixty-Nine, Seventy, Seventy-One, Seventy-Two, Seventy-Three, Seventy-Four, Seventy-Five, Seventy-Six, Seventy-Seven, Seventy-Eight, Seventy-Nine, Eighty, Eighty-One, Eighty-Two, Eighty-Three, Eighty-Four, Eighty-Five, Eighty-Six, Eighty-Seven, Eighty-Eight, Eighty-Nine, Ninety, Ninety-One, Ninety-Two, Ninety-Three, Ninety-Four, Ninety-Five.]