Nice, Amazon: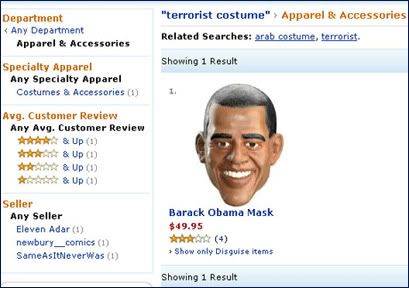 In case you missed the problem (or can't see the image), that's an Obama mask listed under the header "terrorist costume."
Via Ali at
Think Progress
, who also notes: "The Obama terrorist page listed related searches as 'arab costume, terrorist'."
Btw, that mask looks fuck-all like Barack Obama.
[Obama Racism/Muslim/Unpatriotic/Scary Black Dude Watch: Parts One, Two, Three, Four, Five, Six, Seven, Eight, Nine, Ten, Eleven, Twelve, Thirteen, Fourteen, Fifteen, Sixteen, Seventeen, Eighteen, Nineteen, Twenty, Twenty-One, Twenty-Two, Twenty-Three, Twenty-Four, Twenty-Five, Twenty-Six, Twenty-Seven, Twenty-Eight, Twenty-Nine, Thirty, Thirty-One, Thirty-Two, Thirty-Three, Thirty-Four, Thirty-Five, Thirty-Six, Thirty-Seven, Thirty-Eight, Thirty-Nine, Forty, Forty-One, Forty-Two, Forty-Three, Forty-Four, Forty-Five, Forty-Six, Forty-Seven, Forty-Eight, Forty-Nine, Fifty, Fifty-One, Fifty-Two, Fifty-Three, Fifty-Four, Fifty-Five, Fifty-Six, Fifty-Seven, Fifty-Eight, Fifty-Nine, Sixty, Sixty-One, Sixty-Two, Sixty-Three, Sixty-Four, Sixty-Five, Sixty-Six, Sixty-Seven, Sixty-Eight, Sixty-Nine, Seventy, Seventy-One, Seventy-Two, Seventy-Three, Seventy-Four, Seventy-Five, Seventy-Six, Seventy-Seven, Seventy-Eight, Seventy-Nine, Eighty, Eighty-One, Eighty-Two, Eighty-Three, Eighty-Four, Eighty-Five, Eighty-Six, Eighty-Seven, Eighty-Eight, Eighty-Nine, Ninety, Ninety-One, Ninety-Two, Ninety-Three, Ninety-Four, Ninety-Five, Ninety-Six, Ninety-Seven, Ninety-Eight, Ninety-Nine, 100, 101, 102.]