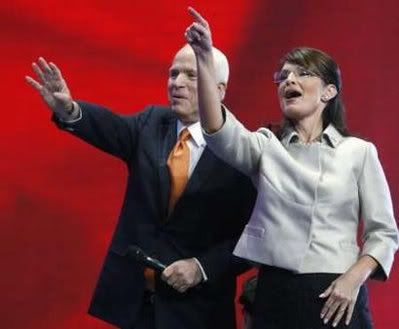 IT FINALLY ENDS! YAY! Tonight is McCain's special night and they built him a
CATWALK
so he can have a more "townhall" experience. Work it!
Speakers
this evening include:
Gov. Tim Pawlenty (Minn.)
U.S. Sen. Sam Brownback (Kan.)
U.S. Rep. Mary Fallin (Okla.)
U.S. Sen. Lindsey Graham (S.C.)
Former Gov. Tom Ridge (Penn.)
Mrs. Cindy McCain
Presidential Nominee John McCain
I am having connectivity issues from hell; same old crap with my ISP and this happens at least once a month. I fluctuate with whopping speeds that would be the envy of anyone, circa 1995. It seems to be working as I type this, but that might change. I will try to post video when I can.
Don't forget! Senator Obama will appear on
O'Reilly
this evening. Use this thread for discussion.
Also, from the
Star Tribune
:
Dozens of police officers in riot gear and on horseback are blocking about 500 people who had gathered for an anti-war protest on the final day of the Republican National Convention from crossing the highway into downtown.
So enjoy this night as a new revolution is here. Help me!
Update 1:
Rep. Marsha Blackburn (TN)
Update 2:
Sam Brownback
Update 3:
Senator Lindsey Graham
Update 4:
Let's Get To Know Cindy McCain Video
Update 5:
Cindy McCain Speaks To All
Transcripts are here
.
Rep. Marsha Blackburn
Sam Brownback wants a Sing-A-Long
Senator Lindsey Graham or as I call him Tutucocksey
Let's Get To Know Cindy McCain Video
Cindy McCain