"
Cat fight
." If I need to explain why the
New York Times
speculating over a "cat fight" between Senator Hillary Clinton and Governor Sarah Palin is colossally inappropriate, you're probably at the wrong blog.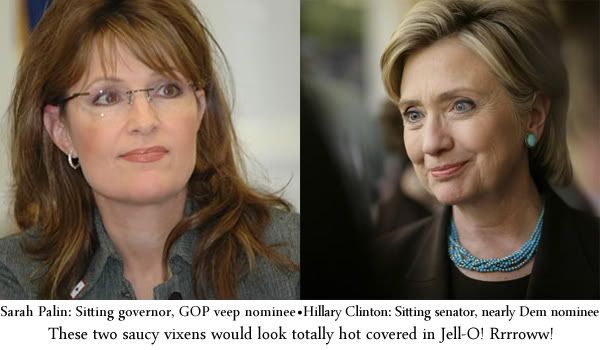 This is your daily reminder that 18 million cracks in the glass ceiling is still not enough to mean you won't get talked about like a dumb bitch whose primary function in this world is entertaining men.
[H/T to Shaker CE,
in comments
.]
Hillary Sexism Watch: Parts One, Two, Three, Four, Five, Six, Seven, Eight, Nine, Ten, Eleven, Twelve, Thirteen, Fourteen, Fifteen, Sixteen, Seventeen, Eighteen, Nineteen, Twenty, Twenty-One, Twenty-Two, Twenty-Three, Twenty-Four, Twenty-Five, Twenty-Six, Twenty-Seven, Twenty-Eight, Twenty-Nine, Thirty, Thirty-One, Thirty-Two, Thirty-Three, Thirty-Four, Thirty-Five, Thirty-Six, Thirty-Seven, Thirty-Eight, Thirty-Nine, Forty, Forty-One, Forty-Two, Forty-Three, Forty-Four, Forty-Five, Forty-Six, Forty-Seven, Forty-Eight, Forty-Nine, Fifty, Fifty-One, Fifty-Two, Fifty-Three, Fifty-Four, Fifty-Five, Fifty-Six, Fifty-Seven, Fifty-Eight, Fifty-Nine, Sixty, Sixty-One, Sixty-Two, Sixty-Three, Sixty-Four, Sixty-Five, Sixty-Six, Sixty-Seven, Sixty-Eight, Sixty-Nine, Seventy, Seventy-One, Seventy-Two, Seventy-Three, Seventy-Four, Seventy-Five, Seventy-Six, Seventy-Seven, Seventy-Eight, Seventy-Nine, Eighty, Eighty-One, Eighty-Two, Eighty-Three, Eighty-Four, Eighty-Five, Eighty Six, Eighty-Seven, Eighty-Eight, Eighty-Nine, Ninety, Ninety-One, Ninety-Two, Ninety-Three, Ninety-Four, Ninety-Five, Ninety-Six, Ninety-Seven, Ninety-Eight, Ninety-Nine, One Hundred, 101, 102, 103, 104, 105, 106, 107, 108, 109, 110.

Sarah Palin Sexism Watch: Parts One, Two, Three, Four, Five, Six, Seven, Eight, Nine. We defend Sarah Palin against misogynist smears not because we endorse her or her politics, but because that's how feminism works.