Nothing holds a mirror to a nation's psyche like its athletics. Take the U.S., for example, where a look at athletics shows off America's lust for capitalism (
Michelle Wie
, every male athlete that's skipped college for the pros, Tiger Woods' naked ambition to be the first billion-dollar athlete, etc.) as well as its often cavalier attitude toward violence against women (if a male athlete wasn't arrested today on some type of violence against women charge, two will be tomorrow), among other things.
In Spain, athletics show one thing more than anything, it seems - that Spain has a serious problem with racism. Take the picture below, which was used in
an advertisement by Spain's Basketball Federation
: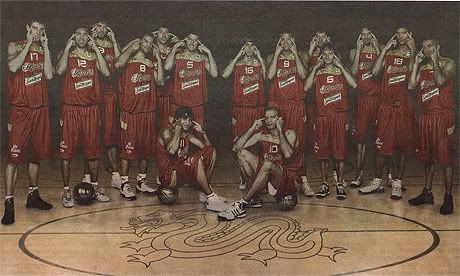 Yes, they are all slanting their eyes in tribute to their Chinese hosts.
If you follow
Spanish soccer
, it's impossible to miss seeing the racism fans project toward black players. So it's pretty easy to see that there are racial problems in Spain. But this advertisement takes it to a whole other level. That the basketball federation, the players and the newspaper didn't see this a racial slur - leading into the biggest sporting event of the year - is truly remarkable.
So Spaniards or those living in Spain or with knowledge of the country, what say you? Are the racial problems of Spain as bad as its athletics convey?
--WKWCrossposted at Williamkwolfrum.com