Say, here's something that millions of fat people
could have told you
: Fat doesn't automatically make you a walking time bomb. Lack of fat doesn't automatically mean you're
not
a walking time bomb.
Shocking.
I'm a big fatass who's pretty healthy (aside from my fuckleg). Years ago, I knew a guy who's skinny as a rail, but is also a McDonald's franchise owner who eats his own product three times a day—and his blood pressure and cholesterol are off the charts.
Because of
decades
of faulty presumptions and prejudices about fatness, almost anyone would look at the two of us and think that I'm the one who's unhealthy.
I'm
still
the one whose headless body is most likely to end up in the news.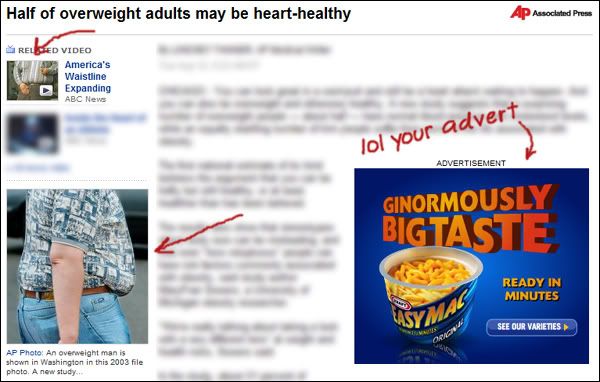 [H/T to about a dozen different Shakers, and many thanks to each of you.]