By William K. Wolfrum
New York Times Science Editor
When her child's first blemish came, Mandy Sancton was unconcerned. Then came the second, and then third blemish. Within months, Sancton's 14-year-old son Robbie had a face full of pimples. That's when Mandy went to the Internet.
What she found
changed the direction of her life.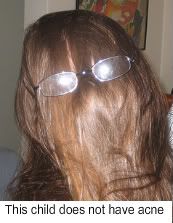 "The more I looked around, the more the truth started to stare me in the face," said Sancton, a holistic healer. "That's when I realized that the pain my son was going through was completely avoidable."
What Sancton discovered was a conspiracy that shook her to the core - a child's first haircut causes acne.
"For decades, barbers and hair dressers have hidden this horrifying secret," said Sancton. "That they could get away with this for so long is criminal. Period."

While the science is still shaky, a brave group of citizens have come together to form the organization Leave Your Newborn Children Hairy (LYNCH). The group claims that when a child receives his or her first haircut, thimerosal, a mercury-based preservative, leaks out of the scissors into the child's scalp. Within a time frame of 12-16 years the thimerosal works its way into the child's pores, causing significant and embarrassing breakouts of acne.

Tim Johnson, a school-bus driver from Los Cruces, New Mexico, created LYNCH after years of seeing children suffer with acne.

"Day after day and year after year I'd see children come on my bus with serious acne issues," said Johnson. "After I did some research, I realized that there was no scientific reason for children to get pimples. That's when I started looking at the haircutting industry."


What Johnson found was a long pattern of cover-ups and secrecy by the powerful International Barber Cartel (IBC). The IBC, says Johnson, has hidden vital medical facts in order to further its agenda of having its members give as many haircuts as possible. Like the tobacco industry, the IBC has striven to get children "hooked" on haircuts at earlier and earlier ages, ignoring the acne-causing risks that children face when their scalp is invaded by the ethylmercury that is included in thimerosal, says Johnson.

Still, as LYNCH fights its brave battles, some skeptics have come forward claiming that correlation does not equal causation. American skeptic of considerable note Perry DeAngelis pointed to an explosion in cases of lice and dandruff among children, with more than 70 percent of those infected having never received a haircut.

"These LYNCH people are wackjobs," said DeAngelis. "Seriously, wackjobs."

Nonetheless, Johnson and LYNCH point to a recent book published by journalist David Kirby. "The First Cut" details the nefarious activities of the IBC and its illicit partnership with the Mercury for All Syndicate (MAS). Kirby, who suffered from severe acne as a teen, has become a champion of sorts to the LYNCH crowd.

"David Kirby is a brave man," said Johnson. "He has unselfishly given of himself and fought for the truth, surviving only on handouts from LYNCH members and grants from Faith-Based Initiatives."

For Sancton, the realization that haircuts have left her young son disfigured was a bitter pill to swallow. Having joined LYNCH, however, Sancton says she is ready to fight for a world where hair is allowed to grow as God intended.

"My child is scarred, both physically and mentally," said Sancton. "I can't allow other children to needlessly be poisoned with this acne-causing mercury.

"You can throw all your facts away, as far as I'm concerned," Sancton continued. "But my Mommy Instinct tells me that haircuts cause acne. And it must be stopped."

--WKW