[Trigger warning. Some images may be NSFW.]

So, apparently the jeans-maker Wrangler recently took a look at its folksy, outdated logo, and its years of
adverts designed
to establish the brand as the "cowboy jeans," and
decided
it needed a modernizing makeover. Possibly around the same time
the world's two most famous cowboys
were having wild cowboy sex where the deer and the antelope play. Time to butch up and honkytonk down the brand, make it hip and sexy, and try to appeal to a new younger, fashion-conscious demographic.
And what better way to do that than stick your jeans on foxy murdered corpses? Or, to be precise, models who are strewn across the muddy ground or floating in a bog so as to merely
look like
foxy murdered corpses. And then slapping on a tagline ominously reading: "WE ARE ANIMALS."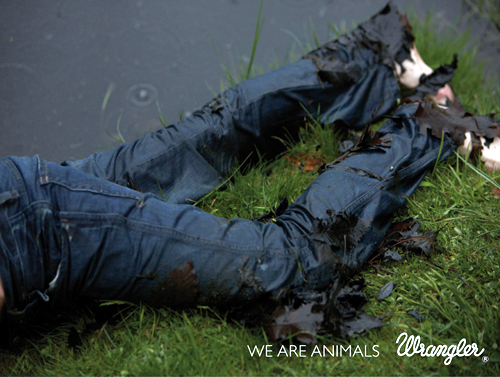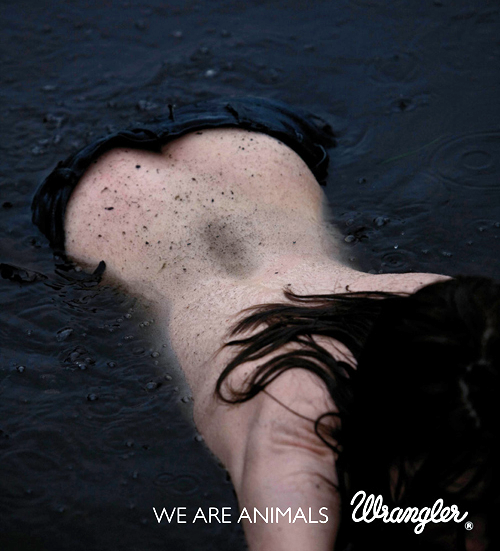 Um, yeah. Because murder? Is so hot and edgy.

Especially when accompanied by a goofyass retro rope-logo.

The unsavory and incoherent campaign, which is running in France, also includes a live spot, featuring the jeans models engaging in some animalism pre-death…?—I've no idea. Don't ask me to explain. I cannot.

Copyranter, posting over at Animal, comments about the ads:

Yes, "we are animals." Animals with cognitive ability. Animals who can look at these ads that say "we are animals" and respond "WHAT?" … The guilty ad agency, FFL Paris, also produced this animated, hyper-sexual animal commercial for Orangina.
Rape is hilarious, disembodied girly bits are cute, murder is sexy. We are a deeply screwed up culture.

[Assvertising: Parts One, Two, Three, Four, Five, Six, Seven, Eight, Nine, Ten, Eleven, Twelve, Thirteen, Fourteen, Fifteen, Sixteen, Seventeen, Eighteen, Nineteen, Twenty, Twenty-One, Twenty-Two, Twenty-Three, Twenty-Four, Twenty-Five, Twenty-Six, Twenty-Seven, Twenty-Eight, Twenty-Nine, Thirty, Thirty-One.]