WASHINGTON – Citing his unassailable qualifications as a tortured POW,
imprisoned U.S. citizen Jose Padilla
has announced plans to run for U.S. President.
Spokesman Carolyn Jenkins said Padilla has proven his qualifications for President over the last several years, as he has been kidnapped, repeatedly tortured and then imprisoned. Jenkins said that Padilla main platform as a candidate will be to "Stop kidnapping, illegally holding, torturing and imprisoning U.S. citizens."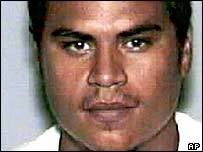 Reactions to Padilla`s announcement were swift as many pundits quickly proclaimed that jailed terrorists have no business running for President.
"Padilla is a terrorist who wanted to kill as many people as he could for his own ideology," said Charles Krauthammer. "The United States cannot afford to have a bloodthirsty ideologue run the nation."
Jenkins reacted angrily to the disrespect shown to an American who has been tortured and held for years against his will by his own country.
"Right now there is a concerted effort on the part of the U.S. media and both major political parties to malign Mr. Padilla," said Jenkins. "But without a shadow of a doubt, Mr. Padilla is uniquely qualified to be President due to his years of being held as a prisoner and his years of being tortured."
Jenkins also was quick to brush aside arguments that Padilla was mentally incompetent and unfit for the challenges of the Presidency.
"First of all, as we have seen the last seven years, mental competency is not a prerequisite to becoming President," said Jenkins. "Secondly,
Mr. Padilla
was pronounced to be mentally stable enough to be given 20 years in prison, so the argument is moot."
Padilla will be campaigning for the "Tortured Party," a newly formed political party that consists of those from around the globe who have been tortured by the U.S. government. Padilla's camp has already announced his running mate,
illegally tortured Canadian Maher Arar
. While many have begun to argue that the Constitution likely wouldn't allow a convicted felon and a Canadian run for the United State's main offices, Jenkins was quick to disagree.
"Padilla may have shown poor judgment in the past, but being held prisoner and being repeatedly tortured makes all of that inconsequential," said Jenkins. "Padilla and Arar were kidnapped and tortured. That trumps everything when it comes to being qualified to being President. Anyone who tries to discredit either of them in any way is just showing that they are pro-torture and have no respect for how these two heroically lived through the heinous torture techniques used on them."
Barack Obama and
John McCain
could not be reached for comment.
--WKW