Part Seventeen in an ongoing series…
I was just thinking the other day that what the world really needs is a series of collectible figurines of women's bodies from waist to knee, featuring different panties. So thank Maude for Hip Parade!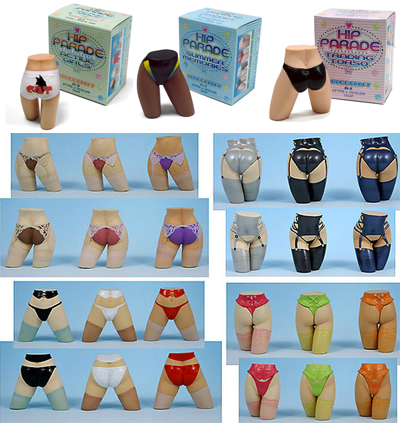 [Click to embiggen, if you must.]
Well, what
can
I say that I haven't already said a thousand times before?
There's this idea that women's bodies are community property—it comes up over and over and over in threads here, in discussion ranging from casual sexual assault (being felt up by strangers in crowds, on public trans, etc.) to pregnancy (strangers laying hands uninvited on a pregnant belly) to catcalls, unbidden opinions on one's weight, and exhortations from strangers to "smile"—and this seemingly never-ending stream of execrable kitsch, bits and parts of the female form, ripped asunder from a human whole, feeds into that idea more overtly than just about any other piece of cultural detritus about which I write.
Beyond that, they necessarily perpetuate the notion that women's bodies are consumable
things
, to be bought and collected and owned.
And if I need to explain to you why either of those two narratives are problematic for women, you're at the wrong blog.
Should you be considering mounting the "it's just a joke" defense, I encourage you to read
this post
very carefully
first, and then just STFU.
Thanks to Shaker
Ottermatic
for passing these along. Also see
Sociological Images
and
The Hoydens
; image partially nicked from
Tomopop
.
[Disembodied Things (possibly NSFW): Parts
One
,
Two
,
Three
,
Four
,
Five
,
Six
,
Seven
,
Eight
,
Nine
,
Ten
,
Eleven
,
Twelve
,
Thirteen
,
Fourteen
,
Fifteen
,
Sixteen
.]