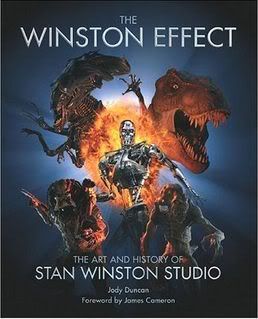 If you've ever gasped in awe at a special effect, been moved to tears or screams by a non-human character, or cheered during the end credits, you're a fan.
We'll miss you, Mr. Winston.
Stan Winston, the Oscar-winning special-effects maestro responsible for bringing the dinosaurs of "Jurrasic Park" and other iconic movie creatures to life, has died. He was 62.

Winston died at his home in Malibu surrounded by family on Sunday evening after a seven-year struggle with multiple myeloma, according to a representative from Stan Winston Studio.

Working with such directors as Steven Spielberg, James Cameron and Tim Burton in a career spanning four decades, Winston created some of the most memorable visual effects in cinematic history. He helped bring the dinosaurs from "Jurassic Park," the extraterrestrials from "Aliens, the robots from "Terminator" and even "Edward Scissorhands" to the big screen, and was a pioneer in merging real-world effects with computer imaging.
I remember when I initially saw the dinosaurs in Jurassic Park, I was amazed at how
real
the darn things looked, even when they were closeup computer images. (Sam Neill's reaction was perfect, because we were having the same reaction.) Years later, I see CGI rar scary monstas in so many lousy movies, and it's incredible how they can't touch the realism created by Winston. Those are ones and zeroes, and nothing more.
I had a lot of admiration for Wintson because he was one of the few old-school special effects artists that still insisted on using practical effects whenever possible. There's a reason the Queen Alien is so effective and frightening: She's
really there
. She has
mass
. The scene where Ripley first discovers the Queen's egg chamber is still, for my money, one of the greatest scenes in film history.
I mean, come on, the guy was Oscar nominated for his work on
Heartbeeps
. You
know
he was something special.
Damn
, I'm going to miss him.