Like I needed
another reason
to loathe McCain: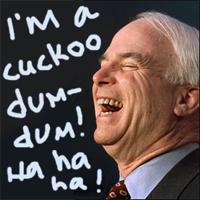 [Why didn't you choose Gov. Jim Gibbons to chair your Nevada campaign?]

I appreciate his support. As you know, the lieutenant governor is our chairman.

Why snub the governor?

I didn't mean to snub him,. I've known the lieutenant governor for 15 years and we've been good friends….I didn't intend to snub him. There are other states where the governor is not the chairman.

Maybe it's the governor's approval rating and you are running from him like you are from the president?

(Chuckling) And I stopped beating my wife just a couple of weeks ago….
Ho ho ho.
In fairness, McCain is riffing on the classic Beltway example of a question to which there's no good answer ("When did you stop beating your wife?"), but, ya know, that's not actually funny in the first place.