They're coming fast and furious now, Shakers. This is currently on the cover of
Slate
: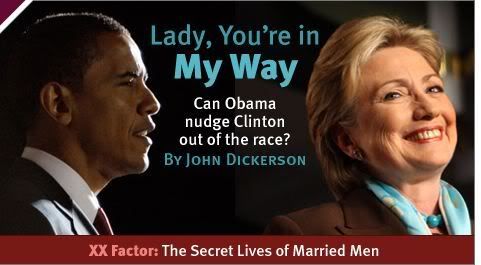 Ignore the validity of the premise that Clinton is "in Obama's way," to focus merely on how that message is communicated here: Not "Clinton, you're in my way" or "Senator, you're in my way" or even just, "Hey, you're in my way," but "
Lady
, you're in my way."
As if, perhaps, Senator Hillary Clinton is a doddering old woman who is swerving her cart back and forth in the grocery aisle, rather than a serious presidential contender fighting out a close race to the finish.
And, for the record, even if she
were
a doddering old woman swerving her cart back and forth in the grocery aisle, "Lady, you're in my way" would
still
be fucking rude.
In the actual article, in which John Dickerson wonders, "Can Obama do anything to get Clinton out of the race?", he asserts that by telling the Washington Post that the sexism used against her during the campaign has been "deeply offensive to millions of women," Clinton is "making it more painful for Obama if he tries to push her out." Right. Pointing out the unrelenting sexism during this campaign is just a Machiavellian ploy to damage Obama.*

That it's not considered possible for people to point out sexism—even Clinton herself, who has been its target—without it being a swipe at Obama (and/or a bit of shilling for Clinton) is just another bit of misogyny, the idea that women and their allies must have an ulterior motive for addressing sexism. As if the sexism itself isn't bad enough, or as if it doesn't really even exist in the first place—it's just some concocted excuse to take a hit at someone, or "make things painful" for Obama.

Christ.

(Also note that Slate's "women's" blog, The XX Factor, is having an important discussion about "The Secret Lives of Married Men" while the first viable female presidential candidate ever is being trashed on their wankazine's front page. Brava.)

[H/T to Shaker Squires, via email.]

-------------------------

* Never mind that in the audio of the interview, Clinton says, twenty seconds in: "I think that part of what I have to do [as I continue campaigning] is both continue to make the case for me but also to demonstrate that we're going to have a unified Democratic Party when we finally have a nomination, because it's really important that we win," and then says again, at 2:15, after being asked if "women" (note) are going to be upset if she doesn't get the nomination: "It's one of the closest races we've ever had, and I think that a lot of people are deeply invested in their candidates, so there will probably be disappointment no matter which of us gets the nomination, and then it will be up to us to unify the Party and make sure that we are victorious in November against McCain."

Hillary Sexism Watch: Parts One, Two, Three, Four, Five, Six, Seven, Eight, Nine, Ten, Eleven, Twelve, Thirteen, Fourteen, Fifteen, Sixteen, Seventeen, Eighteen, Nineteen, Twenty, Twenty-One, Twenty-Two, Twenty-Three, Twenty-Four, Twenty-Five, Twenty-Six, Twenty-Seven, Twenty-Eight, Twenty-Nine, Thirty, Thirty-One, Thirty-Two, Thirty-Three, Thirty-Four, Thirty-Five, Thirty-Six, Thirty-Seven, Thirty-Eight, Thirty-Nine, Forty, Forty-One, Forty-Two, Forty-Three, Forty-Four, Forty-Five, Forty-Six, Forty-Seven, Forty-Eight, Forty-Nine, Fifty, Fifty-One, Fifty-Two, Fifty-Three, Fifty-Four, Fifty-Five, Fifty-Six, Fifty-Seven, Fifty-Eight, Fifty-Nine, Sixty, Sixty-One, Sixty-Two, Sixty-Three, Sixty-Four, Sixty-Five, Sixty-Six, Sixty-Seven, Sixty-Eight, Sixty-Nine, Seventy, Seventy-One, Seventy-Two, Seventy-Three, Seventy-Four, Seventy-Five, Seventy-Six, Seventy-Seven, Seventy-Eight, Seventy-Nine, Eighty, Eighty-One, Eighty-Two, Eighty-Three, Eighty-Four, Eighty-Five, Eighty Six, Eighty-Seven, Eighty-Eight, Eighty-Nine, Ninety, Ninety-One, Ninety-Two, Ninety-Three, Ninety-Four, Ninety-Five, Ninety-Six.