Oh, you didn't think it was
over
, did you? Of course it isn't! The
Wall Street Journal
has
fake concession speeches to write
, and the wanktastic wankstains of the
New York Post
have covers to produce like this wankgasmic piece of wankery: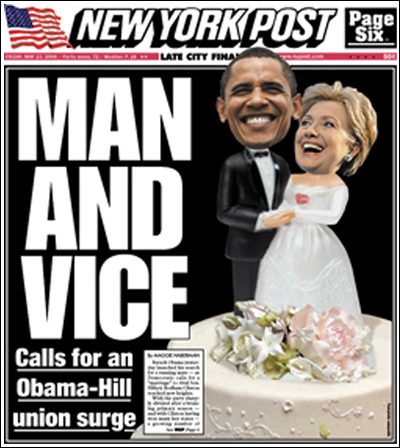 If you need explained to you why that qualifies as sexism, you're at the wrong blog. I will, however, take a moment to congratulate the Post on their embrace of the old-skool "Man and Wife" construction, which has long since been replaced among most enlightened people with "Husband and Wife." Anyone who suggests they did it purely for practical reasons re: page layout (while naturally ignoring that design convenience is not a justifiable rationale for sexism) is gonna get clocked with a teaspoon. Fair warning.
I'm getting grumpy about being the go-to grrl for this shit. I'd like to write about
something else
, but I fear if I don't keep going, it won't get written about at all. Sigh.
(H/T to Shaker
Anna Overseas
for the WSJ article and Zuzu and Shaker
Andy
for the NYP cover.)
[Hillary Sexism Watch: Parts One, Two, Three, Four, Five, Six, Seven, Eight, Nine, Ten, Eleven, Twelve, Thirteen, Fourteen, Fifteen, Sixteen, Seventeen, Eighteen, Nineteen, Twenty, Twenty-One, Twenty-Two, Twenty-Three, Twenty-Four, Twenty-Five, Twenty-Six, Twenty-Seven, Twenty-Eight, Twenty-Nine, Thirty, Thirty-One, Thirty-Two, Thirty-Three, Thirty-Four, Thirty-Five, Thirty-Six, Thirty-Seven, Thirty-Eight, Thirty-Nine, Forty, Forty-One, Forty-Two, Forty-Three, Forty-Four, Forty-Five, Forty-Six, Forty-Seven, Forty-Eight, Forty-Nine, Fifty, Fifty-One, Fifty-Two, Fifty-Three, Fifty-Four, Fifty-Five, Fifty-Six, Fifty-Seven, Fifty-Eight, Fifty-Nine, Sixty, Sixty-One, Sixty-Two, Sixty-Three, Sixty-Four, Sixty-Five, Sixty-Six, Sixty-Seven, Sixty-Eight, Sixty-Nine, Seventy, Seventy-One, Seventy-Two, Seventy-Three, Seventy-Four, Seventy-Five, Seventy-Six, Seventy-Seven, Seventy-Eight, Seventy-Nine, Eighty, Eighty-One, Eighty-Two, Eighty-Three, Eighty-Four, Eighty-Five, Eighty Six, Eighty-Seven, Eighty-Eight, Eighty-Nine, Ninety, Ninety-One, Ninety-Two, Ninety-Three, Ninety-Four, Ninety-Five, Ninety-Six, Ninety-Seven, Ninety-Eight, Ninety-Nine, One Hundred.]