Remember Abortion Man, the Damon Wayans-created "superhero" about which Tigtog
blogged
(in a post
to which I linked
) last month? Rachel Faulk over at Giving by Design has found an extremely upsetting (and possibly triggering) example of
life imitating art
.
Shaker Scott sends
this post
from Nicole at C&L about the GOP using an incident of voter disenfranchisement in Indiana as, naturally, a pattern for how to do more of the same.
Incertus
grabbed this screenshot of the
Sun-Sentinel
's equivalent to the "odd news" section, "Strange But True." Which one of these things doesn't belong?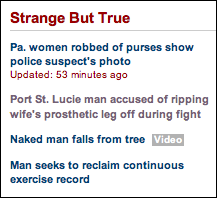 Shaker Skywind forwards
this article
, "Tampa Man Had Consensual Sex With Minor, Police Say," that has the stunning intro, "A Tampa man had consensual sex with a 12-year-old girl several times in recent months, Tampa police say." The Tampa police say that, do they? Well, someone send the Tampa police a memo that there's no such thing as consensual sex with a 12-year-old. That's called rape.
In good news, Shaker Kathleen passes on
video
of the awesome story of sportsmanship (sportswomanship? sportspersonship?) that we
discussed last Friday
. Big. Time. Blub.