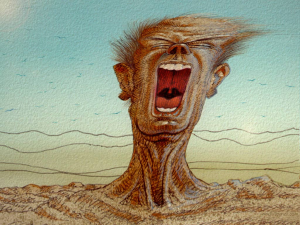 In case
the MSM
anyone missed it
the other day
, Bush followed up Cheney's
"So" moment
with a spit in the face and a wedgie by openly admitting that
he approved the use of torture
by our government. He fearlessly admitted this because he knew what would happen.
He knew that no one would do one damn thing about it. In fact, with all the hubbub over the election cycle, he knew that no one would even pay attention to it; not the media and not the slack-jawed easily distracted population at large. And so we sit here with this amazing bit of information while we watch our elected doofuses sit around and reflect with the same level of excitement as watching an accident on TV and saying, "Bummer."
Our government is not supposed to work like this.
In response, John Amato started an
action item
to
join the ACLU
in demanding that Congress actually wake up and get an investigation going. The fact that we have to yell and scream for Congress to do something about an issue that's a little worse than a blowjob (and, yes, even LYING about a blowjob) is yet
another
example
of how our government is broken.
In a
subsequent post
on C&L, Howie Klein pointed to responses by some Blue America candidates so we could see what their stances are on this recent revelation. Funny how they seem to be the only ones saying that Bushco needs to be held accountable for their actions. And even so, they still stop short on stating what that accountability should be. And I'm supposed to show financial support to them because they made a nice speech on the concept of accountability?
These folks are already getting enough financial support from me when they're in office for doing sweet F A. When I call my reps to find out what they intend to do, the staffer has no idea what the plan is; no surprise there. The reps don't even know what the plan is, aside from waiting around for the next inauguration.
Our government is not supposed to work like this.
This is why it's up to us to keep the issue front and center. Enough of this bullshit and enough of keeping the eye off the prize. Worrying about the election is shit at the moment; it will happen regardless, and even if a Democrat wins, we're going to have to worry about restoring credibility in government. This utter bullshit about democracy and freedom in the middle east has got to fucking stop until we address the sheer blasphemy that was done in the name of our supposedly moral country.
Keep screaming it until their damn ears bleed:
Bush and his cabinet approved torture.