If you watched "The Sopranos," you'd likely come to the conclusion that mobsters spent most of their days devising ways to whack competitors, with the rest of the time spent actually doing the whacking. All the while no one really pays much attention.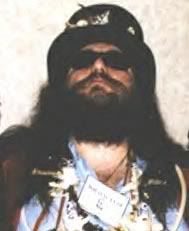 Of course, if you took a look at Las Vegas, you may figure that "The Sopranos" was, in fact, a documentary. On Saturday, Sin City legend
"Buffalo" Bill Barrier
was found dead in a room, apparently killed by a drug overdose.
Las Vegas gadfly and former councilman Steve Miller - a close friend ofBarrier and someone
at least one paper is worried will be next
- was quick to pounce on the idea that Barrier was murdered by the mob. According to Miller, "He had no reason to take his own life, and was living a very healthful life. Barrier called me on Saturday saying he received a call from a man who identified himself as a 'Hit man.' He said the man talked for over a half hour about how he wanted to kill him."

It's easy to view Barrier's death as a hit. He had long battled in court against mobster Rick Rizzolo (currently in jail for racketeering and tax evasion) and had acquired a reputation as someone who was fearless in the face of the Vegas mob. And now he's mysteriously dead.

Of course, you still won't find much in the news regarding Barrier's death, not even in the Las Vegas newspapers. Which is kind of surprising, as one would think the possible murder of a cult hero - Barrier was also a professional wrestler and was voted as "Las Vegas' Most Colorful Character" by the Las Vegas Review-Journal as recently as 2005.

But with Mayor Oscar Goodman - a man with mob ties and who has threatened to beat New York Times columnist Bob Hebert with a baseball bat - expect to see less and less of the Barrier story rather than see it gain momentum. There will be cover-ups, illegal deals and hush money spread throughout the Vegas' political landscape, and it will likely take years for anyone to come to judgment for Barrier's death, if any charges come from it at all.

Because that's how Las Vegas works. And in a country where so often the leaders scoff at and outright spit on the rule of law, the only real surprise is that the government hasn't decided to put the nation's capital in Sin City. Because a town where gambling, prostitution, lawlessness, and media blindness is promoted would be the perfect home field for the Bush Administration and others who believe silence is bliss when it comes to breaking the law, even when that law is homicide.

--WKW